Heating limestone produces a chemical substance used in agriculture called pulverized lime, or calcium oxide. Generally, 2 mg of calcium oxide is considered safe for food use; however, concentrations of 25 mg can produce serious side effects including lung inflammation, according to a 2007 report by the Occupational Safety and Health Administration, or OSHA. Consult your doctor after exposure to or consumption of pulverized lime.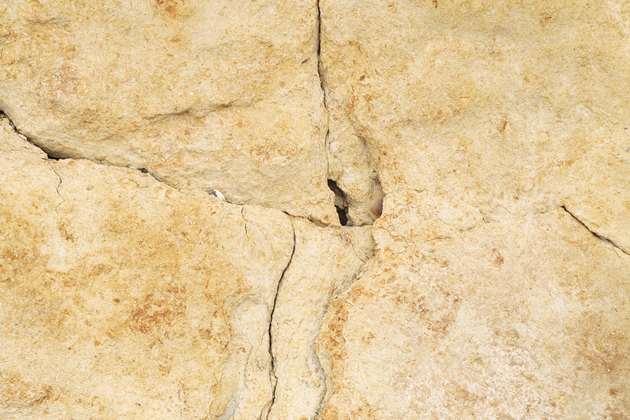 Contact Effects
Direct contact with concentrations of 25 mg of pulverized lime, also known as quicklime, can adversely affect your eyes and skin. This white, granular powder may produce irritated eyes, dry skin and skin inflammation, according to OSHA. To protect your body, avoid direct contact with quicklime by wearing protective goggles, gloves, footwear, headgear and clothing. However, if eye contact does occur, immediately pull your eyelids back and wash your eyes thoroughly with water for 15 minutes. Also, wash your skin after every contamination to decrease the risk of skin disorders.
Inhalation Effects
Inhaling 25 mg of calcium oxide can cause several undesirable respiratory side effects such as coughing, sneezing and shortness of breath. High concentrations of this lime derivative can produce a hole the nasal septum -- the bone tissue that separates the nostrils. In addition, this substance can irritate the upper respiratory tract, leading to reoccurring episodes of bronchitis. A buildup of fluids in the lungs, or pulmonary edema, and lung tissue inflammation can also result from inhaling calcium oxide particles, according to OSHA. After exposure, promptly leave the area and seek medical attention, if needed.
Ingestion Effects
Swallowing pulverized lime can produce mild to severe consequences including digestive discomfort and constipation which may occur after the intake of calcium oxide. Ingesting calcium-rich quicklime may also result in hypercalcemia, or an excess of calcium in the blood. Hypercalcemia can produce nausea, cramping, loss of appetite and vomiting as well as kidney and muscle ailments. In addition, abnormal bleeding or hemorrhaging may occur after the intake of pulverized lime. OSHA recommends seeking medical attention immediately following the ingestion of calcium oxide.
Crystalline Silica Effects
Crystalline silica, a basic component of soil, sand, granite and other minerals, exists in trace amounts in pulverized lime. According to a 2002 report by OSHA, approximately two million United States workers face serious risks from exposure to crystalline silica. In addition to its classification as a lung carcinogen, or cancer-causing substance, crystalline silica can cause a potentially debilitating or fatal lung disease called silicosis. Silica dust can create scar tissue in the lungs -- impeding oxygen intake and making breathing more difficult. The most common form of this disease, chronic silicosis, can appear after 15 to 20 years of exposure; however, its accelerated form can occur after five to 10 years of high exposure to crystalline silica, according to OSHA.