Jogging is a more leisurely form of running. This high-impact, vigorous-intensity exercise may be the perfect calorie burner if you only have 30 minutes of the day to spare. However, in addition to how long you jog, the number of calories you burn depends on other factors, such as your weight and the rate of your pace. If you're new to jogging or running, ease into it slowly through interval training, advises the American Council on Exercise.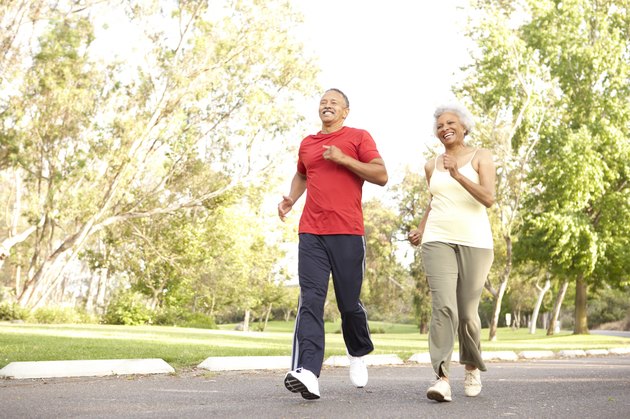 Jogging and Exercise Recommendations
If weight's your issue, it's helpful to know what guidelines experts recommend to maintain your current weight -- and how much physical activity you need to lose it. According to the Centers for Disease Control and Prevention, if you want to prevent weight gain, you need at least 150 minutes of moderately intense aerobic exercise, such as brisk walking, spread out over the course of the week. You can get the same results by engaging in a vigorous-intensity exercise like jogging 75 minutes a week. However, if you're trying to lose weight, you likely need to log more minutes of exercise each week and simultaneously decrease your calorie consumption.
Calories Burned Jogging
The calories you burn during a 30-minute jog at a 5 mph pace depends on your weight -- the more you weigh, the more calories you burn per minute. According to Harvard Medical School, a 155-pound individual burns roughly 298 calories, while a 185-pound person burns about 355 calories. To determine the rough number of calories you'll burn jogging, it's helpful to use a physical activity calorie counter. To prevent injury and muscle soreness, devote at least five minutes of your aerobic activity to a warm-up segment and another five to your cool down. If you're limited to a half hour of exercise and no more, remember that your warm up and cool down have you move at a reduced intensity -- this means you're burning fewer calories per half hour.
Ease into Jogging
A burning desire to lose weight fast can make you impatient. But don't go full throttle if you intend to jog or run, advises ACE, especially if you've been sedentary for a long time. Start at a slower pace for the first couple of weeks. Walk for 20 to 22 minutes at a brisk pace. On week three, add in interval training. Walk for five minutes, then jog for another 30 to 60 seconds; alternate this pattern of walking and jogging for a total of 22 minutes. During the fourth week, tack on another couple of minutes to your workout using the same walk/jog intervals that you did during week three. ACE's advice is to give yourself at least 12 weeks before you try to jog for 30 minutes continuously. Building up your endurance slowly lets your body adjust to this rigorous exercise.
Other Suggestions
ACE suggests limiting your jog to 20 to 30 minutes a day three days a week. Take days off in between to focus on strength training, which keeps your upper body strong. Jogging might not be the right activity for you if you're more than 20 percent overweight. High-impact, intense exercise also isn't advisable if you have a medical condition that affects your heart, bones or joints. If you have health complications that could make more rigorous exercise dangerous, always make sure to get your doctor's OK first. As the CDC points out, even if jogging or running isn't right for you, most adults can engage in moderately intense aerobic activity with little risk to their health. A 160-pound person walking at an energetic 4 mph clip burns 181 calories every 30 minutes.