With its gentler pace -- about 4 to 5 miles per hour -- jogging is a great alternative to running. Because it's easier on the body than running, you could do it every day without injury.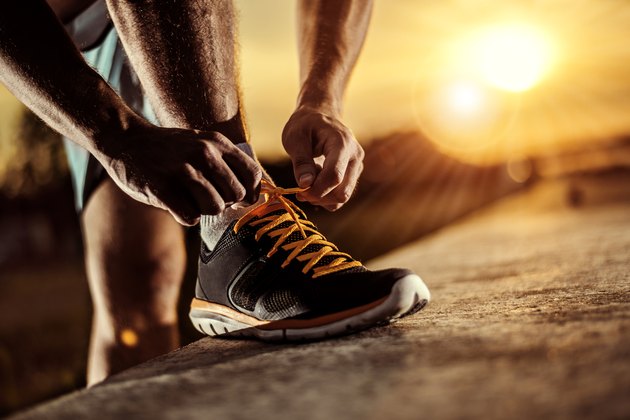 Daily jogging sessions do more than aid weight loss and improve cardiovascular fitness; they can also lengthen your life, ward off sickness and improve your mental state. Just remember not to overdo it or you'll risk effects of overtraining.
Improves Overall Fitness
As a weight-bearing exercise, jogging helps build strong bones and strengthens muscles. It increases cardiovascular health as your lungs and heart adapt to increased activity.
Jogging also burns calories, which helps you lose fat and maintain your weight. Maintaining a healthy weight is key to staying healthy.
Fat Loss and Weight Maintenance
Losing body fat and staying in a healthy range depends on keeping your calorie intake below or equal to your calorie output. Jogging daily can help you maintain this balance.
Calorie burn depends on a lot of variables, including genetics, age and gender, but you can expect to burn about 180 to 266 calories in a 30-minute jog.
If fat loss is your goal, jogging can help you gradually shed pounds, as long as you keep your caloric intake below your caloric expenditure. If you burn 200 calories per day jogging and shave another 300 calories off your daily diet, you could expect to lose about a pound of fat per week.
Increased Life Span
Being physically active helps prevent disease, and jogging is no exception. As part of the Copenhagen City Heart Study, researchers investigated the effects of jogging on nearly 2,000 adult men and women over a 35-year period. According to their findings, male joggers lived 6.2 years longer than male non-joggers, and female joggers lived 5.6 years longer than female non-joggers. Jogging was associated with lower overall all-cause mortality and a substantial increase in survival.
Improved Mental Health
There's no denying the positive effects of regular exercise on mental health. From yoga to cycling to swimming, physical activity boosts mood and reduces stress and anxiety.
Going for a daily jog helps you get away from your problems for a little while. You can focus on your body -- not the thoughts in your head -- and breathe deeply. If you go jogging someplace scenic, you also get the benefits of breathing fresh air and taking in natural beauty.
Other Potential Benefits
Regular activity in the form of jogging can help improve sleep. Lack of sleep can negatively affect your emotions and your ability to focus and it can cause you to gain weight.
Jogging with a friend or joining a jogging group is a great way to connect with others and feel like you belong, key factors in health and happiness levels.
Checking exercise off your to-do list each day can help you feel more accomplished, boosting your self-image. If you worked up to jogging from walking, you can feel especially good about your accomplishment.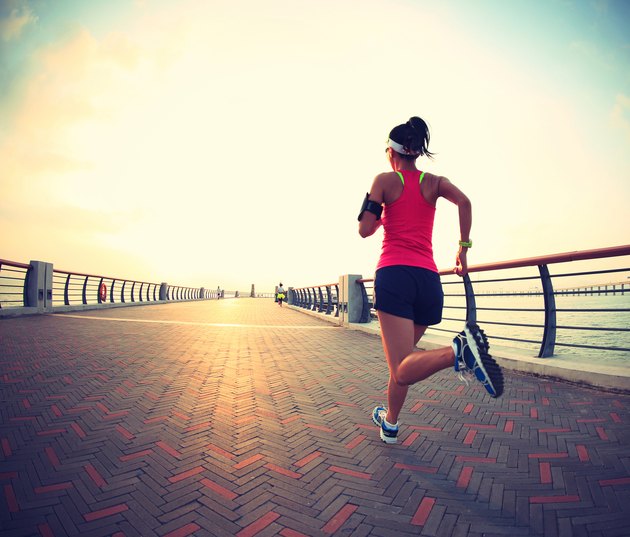 Potential Drawbacks of Daily Jogging
Although it's gentler than running, jogging is more high-impact than walking. Repetitive high-impact exercise can take a toll on your muscles and joints. Whether or not daily jogging will result in injury for you depends largely on your body and pre-existing conditions.
Overtraining syndrome isn't likely, but if you're pushing yourself too hard too quickly it is a risk. Too much jogging and not enough recovery could result in injuries, fatigue and depression. If you're just starting out, gradually ramp up your routine as your body gets used to the activity.
Although the Copenhagen City Heart Study showed positive results for joggers, there is a point at which jogging has diminishing returns. In the study, light joggers had a 90 percent lower death rate than non-joggers; for medium-intensity joggers it was 60 percent lower.
But the study said that "more strenuous joggers," who jogged at a faster pace and/or for longer periods, had the same death rate as their sedentary counterparts. Keeping your jogs to a slow or moderate pace, and jogging no more than 145 minutes total per week, appears to offer the most benefits, according to the study findings.