It's a good time to be a personal trainer, with jobs in the fitness industry expected to increase 10 percent by 2026, according to the Bureau of Labor Statistics. If you have a passion for fitness and helping others, and you know your way around a gym floor, all you need is a certification to get started.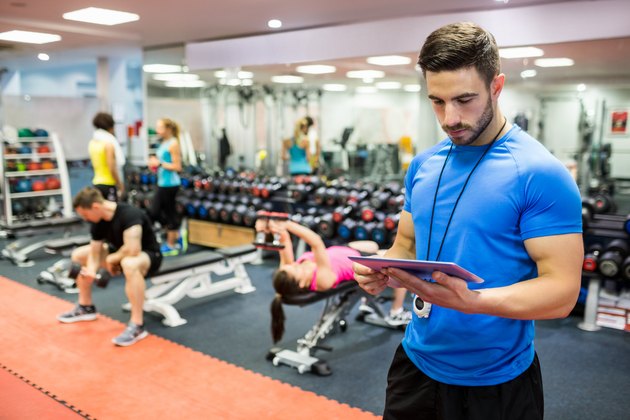 Certifications can cost upwards of $1,000 if you opt for all the bells and whistles. However, if you're tight on cash you can snag a certification for much less than that.
Cheapest Certification
The Athletic Certification Training Commission, or ACT, offers the cheapest personal training certification as of May 2018. The basic plan is $99, which includes a 300-page textbook and the exam. Once you pay the fee, you will receive the textbook in the mail. You can study at your own pace, then register to take the certification exam at a testing center in your area.
Cheapest Certification With Accreditation
The ACT personal trainer certification is cheap, but it isn't poor quality. In fact, it is certified by the National Commission for Certifying Agencies, or NCCA. The NCCA provides accreditation to organizations that have proven to offer legitimate certification.
Organizations voluntarily apply for this important, highly recognized distinction so that stakeholders and the general public know which certifications are valid in the industry. The most expensive certifications in the industry are also NCCA-accredited.
What You Get For Your Money
The $99 dollar certification is basic. In addition to the textbook and exam, you get a digital badge that you can always access online and share on social media. The textbook is comprehensive and will help you learn what you need to know to pass the exam. The exam questions will cover the following topics:
Anatomy, biomechanics and kinesiology
Performing client assessments
Designing personal training programs
Working with seniors, youths, pregnant women and common injuries and conditions
Principles of nutrition
Protecting yourself and your clients
Managing your personal training business
The basic plan is a great option if you already have experience in personal training. If you are already certified and obtaining a second certification, the basic plan will likely suit your needs. Additionally, if you are adept at book learning and self-study, you may find it easy to study the textbook and pass the exam without any extras.
Upgrading
For an additional investment, you can gain access to additional study tools and support — and still at a price that is well below the basic plans of other certification organizations. For $149, or a monthly fee of $9.99, you can sign up for the professional plan.
This includes everything in the basic plan, as well as a kindle textbook version, 20 hours of instructional videos available for download, a study planner, flash cards and unlimited practice tests. You also receive support from instructors, a personal study coach and access to a job board, career coach, personal training forms and discounted insurance.