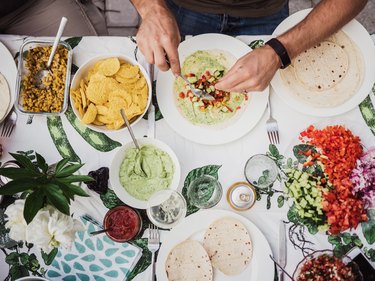 No one likes to skip Taco Tuesdays — but standard taco shells can tack on quite a bit to your daily carb count. Whether you're on the keto diet or just trying to cut back on refined carbs, low-carb taco shell alternatives are a great way to add some variety to your Tuesday evening fiesta.
If a lettuce-based taco shell doesn't sound too appealing, you're in luck! Dana Murrell, principal chef at Green Chef has put together a cheese-based, keto taco shell recipe for you to try. Then, read on to discover how to make low-carb taco shells with bacon or cauliflower!
Keto Taco Shell Ingredients
Cheese: Cheddar or Colby Jack work best for the filling; try Mozzarella for the keto shell.
Spices: Cumin and chili powder.
Meat or meat alternative: You can choose beef, chicken, fish, tofu or grilled veggies — the options are endless!
Add-ins of choice: Lettuce, sour cream, guacamole, salsa, pico de gallo — again, the options are endless.
How to Make Cheesy Taco Shells
Pre-heat the oven: Pre-heat your oven to 375° Fahrenheit and line a baking sheet with parchment paper.
Prepare your shells: Sprinkle cheese in even-layered circles on the baking sheet. Make sure to leave room between each circle for the cheese to spread. Then, sprinkle with cumin and chili powder.
Bake and cool taco shells: Bake for five to seven minutes until the edges begin to brown and bubble. Carefully remove the cheese from the tray and drape it over the side of the baking dish, letting it harden upside down to ensure the shells stay solid.
Gather add-ins: Gather your meat (or meat alternative), veggies, dips and toppings. Now, dig in!
How to Make Bacon Taco Shells
Bacon adds a smoky flavor to taco fillings, so why not use it as the shell? Weave together thin strips of bacon into a small square. Place on a parchment paper-lined cookie sheet and bake in a 400°-Fahrenheit oven for 15 minutes, or until browned and cooked through. Briefly drain the bacon on several layers of paper towels and then drape over a thin glass or glass bottle. Let the bacon shell cool for a few minutes until it keeps its shape. Bacon has zero carbs per serving, as long as you choose a brand without honey or sugar curing.
How to Make Cauliflower Taco Shells
Taco shells are usually crunchy, but soft tortillas can be just as delicious — and carb-heavy. One eight-inch flour tortilla contains about 25 grams of carbohydrates. Make an alternative to wrap fajitas or other fillings using naturally low-carb cauliflower and eggs. Cooked cauliflower has about one gram of net carbs per half-cup serving.
To make a cauliflower batter for your tortillas, finely dice raw cauliflower florets in a food processor. Transfer it to a microwavable bowl, add a sprinkle of water and steam until soft. Drain thoroughly and wrap in a clean towel to squeeze out as much water as possible. Bake in a 375°-Fahrenheit oven for seven to 10 minutes, then carefully flip and continue to cook another five to seven minutes. The discs should be browned and firm. Cool slightly before filling them with your toppings. These cauliflower tortillas will resemble crepes as they're eggy and soft!
DIY Low-Carb Taco Bar
Whether you're hosting a party or simply want to treat yourself, the best way to serve this dish is creating a taco bar right in your kitchen, recommends Murrell. Gather a few small bowls of different sizes and fill them with toppings like chopped onions, lettuce, tomato, cilantro, guacamole, salsa and sour cream. Place the shells in the center and let your guests' imaginations run wild.