Taco fillings such as ground beef, cheese, sour cream and shredded lettuce are low-carb dieting staples, but the shell raises the carb count of this tasty treat. You could always go sans shell to save carbohydrates, but then your taco is just a salad. Preserve the spirit of this rolled dish and stick to your low-carb plan with some creative takes on the taco shell.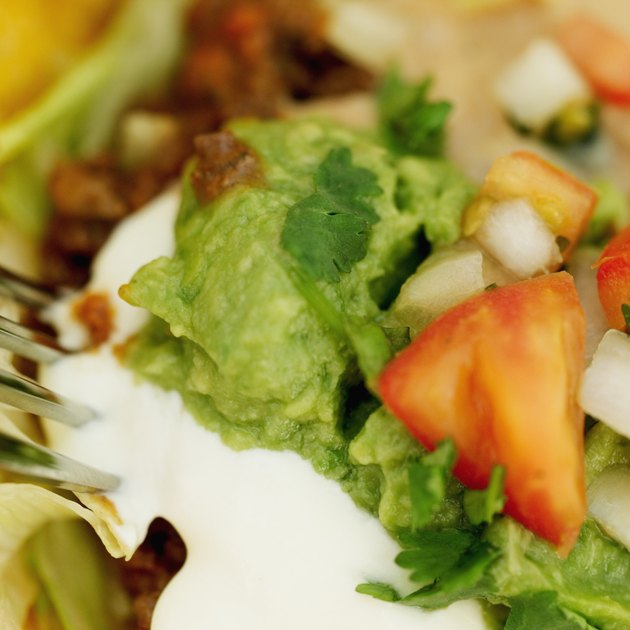 Simple Low-Carb Taco Shells
A large lettuce or collard green leaf makes for an easy, low-carb taco shell sub. For the crunchiest options, choose crisp romaine or iceberg -- which contributes less than 1 carbohydrate per leaf. Simply put your chosen fillings in the center, careful not to overfill, tuck in the sides and roll up like you would a tortilla. The cool greens make a nice contrast to a spicy filling, too.
If you want an alternative that resembles the boatlike shape of a taco shell, opt for Belgian endive leaves. They'll be slightly smaller and narrower than a classic taco shell, but they offer a crunchy container for your taco's middle. Endive can be slightly bitter, so don't expect it taste exactly like a corn shell.
Cheesy Shells
When you melt and brown cheese, then let it cool, it forms a crispy container for your favorite taco fillings. Provolone and Parmesan cheese make reliably crunchy shells, and their flavor complements most fillings.
For a Parmesan shell, heat a small pan coated in cooking spray over medium heat. Place a ring mold in the center of the pan and fill with 1 to 1 1/2 tablespoons of shredded Parmesan. When the cheese melts and browns slightly -- usually within just a few seconds -- use a spatula to slide the cheese pancake from the bottom of the pan and drape it over the thick handle of a wooden spoon or the side of a small juice glass. The cheese will harden into the boat shape within just a minute or two. Parmesan cheese has about 1 gram of carbs per tablespoon.
A provolone cheese shell is even easier to make. Place round slices of the cheese on a parchment paper-lined cookie sheet sprayed with cooking spray. Space the cheese a few inches apart to allow for spreading. Sprinkle with a pinch of chili and garlic powder. Place the cookie sheet in a 375-degree oven for about 10 minutes, or until melted and lightly browned. Working quickly, remove the cheese slices from the pan and drape over the glass or spoon handle. If the cheese cools before you get it off the sheet, it's too late to form the taco shell. Provolone offers less than 1 gram of carbs per slice.
All Bacon Shells
Bacon adds a smoky flavor to taco fillings, so why not use it as the shell? Weave together thin strips of bacon into a small square. Place on a parchment paper-lined cookie sheet and bake in a 400-degree oven for 15 minutes, or until browned and cooked through. Briefly drain the bacon on several layers of paper towel and then drape over a thin glass or glass bottle. Let the bacon shell cool for a few minutes until it keeps its shape. Bacon has no carbs per serving, as long as you choose a brand with no honey or sugar curing.
Cauliflower Tortillas
Taco shells are usually crunchy, but soft tortillas can be just as delicious -- and carb-heavy. One 8-inch flour tortilla has 25 grams of carbohydrates. Make an alternative to wrap fajitas or other fillings using naturally low-carb cauliflower and eggs. Cauliflower has less than 2 grams of net carbs per 1/2-cup serving.
To make a cauliflower batter for your tortillas, finely dice raw cauliflower florets in a food processor. Transfer it to a microwavable bowl, add a sprinkle of water and steam until soft. Drain thoroughly and wrap in a clean towel to squeeze out as much water as possible. Bake in a 375-degree oven for seven to 10 minutes, carefully flip and continue to cook another five to seven minutes. The discs should be browned and firm. Cool slightly before filling. These cauliflower tortillas will resemble crepes as they're eggy and soft.