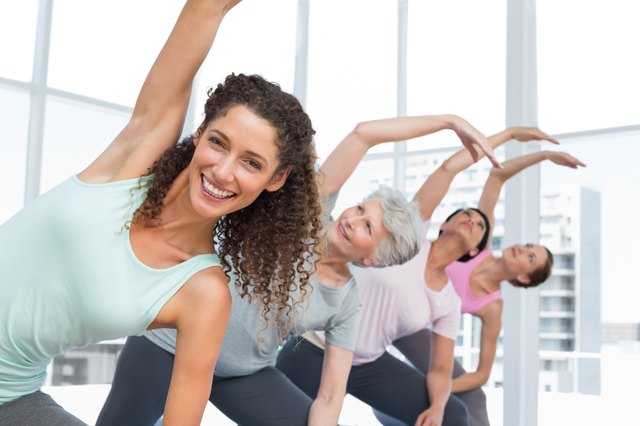 B vitamins are known as the mechanisms that turn food into fuel. Even a mild deficiency of one or more B vitamins can decrease your body's ability to repair itself after exercising, according to a 2006 study produced by Oregon State University. More severe types of the deficiency, known as anemia, interfere with energy level and performance during workouts. The B-vitamin family includes thiamin or B-1; riboflavin or B-2; niacin or B-3; folic acid, or B-9; and the nutrients most commonly called B-6 and B-12.
Effects
Athletes who don't consume enough B-complex vitamins were found to experience greater difficulty building muscle and healing from muscle injuries, the University of Oregon study found. The performance level of the athletes also suffered, especially for high-intensity workouts. People with vitamin B anemia may experience dizziness, fatigue and shortness of breath, often made worse by working out. Additional symptoms such as headaches and chest pain also can may either prevent a workout or make it impossible to continue.
Causes
In something of a vicious cycle, the same vitamin B deficiencies that negatively affect athletic performance can be made worse by working out. People training hard for sports often sweat more than their non-athletic counterparts, which robs their body of nutrients. Poor eating habits exacerbate the problem. People who avoid dairy and eggs for ethical or health reasons find themselves with a deficiency in B vitamins, as well as minerals like calcium. In some cases, a specific condition or lifestyle factor may interfere with your body's ability to absorb nutrients. Digestive disorders such as celiac disease may also cause a vitamin-B deficiency, as can alcoholism or smoking. The National Institute of Health's Office of Dietary Supplements notes that older patients and asthmatic children may need to be checked for a vitamin B-6 deficiency, because of separate health complications faced by each population.
Treatment
Your physician may order a blood test to determine if you have a specific vitamin B deficiency, as well as the level of its severity. In some cases, as with vitamin B12, the doctor may prescribe an injection of the nutrient. Special supplements of individual or combined B-vitamins can be helpful, as can adding plenty of B-rich foods to your daily diet.
Diet
Conveniently, many of the B vitamins exists in the same foods. Dark, leafy greens like spinach, as well as whole grain bread, eggs, milk, yogurt, whole wheat pasta, fortified cereals, brown rice, liver and beef, are all good sources of a range of B vitamins. If you are only deficient in one B vitamin, ask your doctor for foods or supplements noted as an excellent source of the nutrient. Vitamin B12 is only found in animal-based for foods, for example. If you have a B-12 deficiency, including more foods like sardines and calf's liver may boost your energy and workout performance.