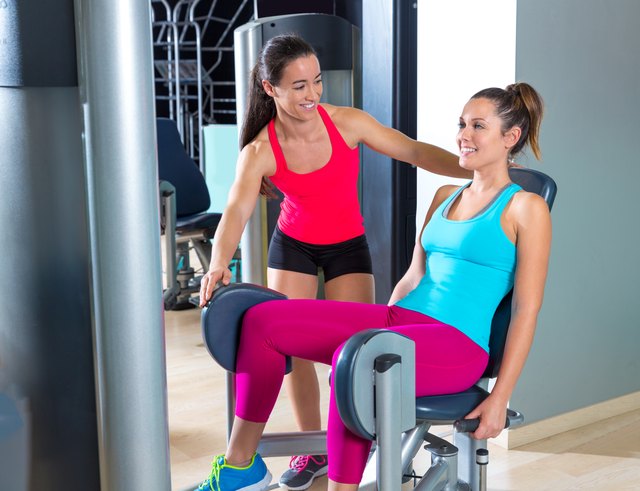 A comprehensive workout routine that focuses on fat burning and building lean muscle, combined with nutritional modifications, can help you lose weight from your hips, buttocks and thighs. Aerobic exercise is beneficial for whole body fat burning and muscle endurance in your target areas. Resistance training aimed at strengthening and toning your lower body improves shape and decreases flabbiness. Simple nutritional changes can trigger overall weight reduction and help you see the results you want.
Aerobic
Aerobic exercise is ideal for fat loss since it uses large muscle groups and burns calories at low and high intensities. Walking, running, cycling, elliptical training, stair climbing, rowing and various aerobic exercise classes can improve cardiorespiratory fitness, muscular endurance, and overall fat burning for leaner hips, buttocks and thighs. Select forms of aerobic exercise you like to do and can perform three to five days each week for at least 30 minutes.
High-Intensity
Low-intensity exercise can be performed for a long duration typically beyond 30 minutes and up to one hour. High-intensity exercise may be performed for a shorter duration, but result in a higher number of calories burned. High-intensity interval training, repeated sequences of vigorous exercise and recovery intervals, has been shown to reduce abdominal and subcutaneous fat, according to the American Council on Exercise. Add high-intensity intervals to your workouts for a leaner lower body.
Resistance
Exercises for the hips, buttocks and thighs include squats, lunges and step ups. You can perform these using body weight or dumbbells. Three sets of 10 to 15 repetitions should be completed to muscle failure on two nonconsecutive days each week. Leg extensions, leg curls, side leg lifts and adductor lifts can also be added to shape your front, back, outer and inner thigh. Hip extensions and pelvic lifts will target and tone your buttocks.
Nutrition
IDEA Health and Fitness Association indicates the bottom line for fat loss is that total number of calories burned during exercise must exceed total calories consumed. Cut 250 empty calories per day from soda, candy, chips or desserts and increase your calories burned through exercise for long-term weight loss. Making small nutritional changes and following a comprehensive exercise routine should lead you to leaner hips, buttocks and thighs. Patience, time and persistence are necessary.