It's frustrating to lack confidence wearing skinny jeans or short shorts because of thigh fat — especially when there are so many reminders in the media that skinny thighs are the ideal. While your body shape and where you store fat are determined by genetics, you don't have to sit idly while your skinny-jean-wearing days pass you by.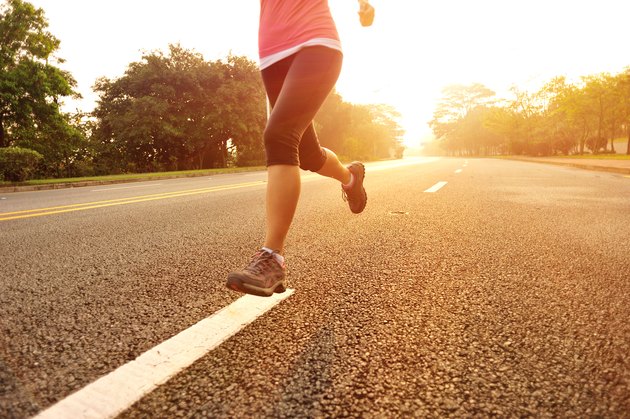 Although you can't spot-reduce, you can do cardio to lose total-body fat, some of which will come from your thighs. The best type of cardio may not be easy, but it will be rewarding — with slimmer thighs as your prize.
Run it Off
Running is one of the best fat-burning exercises you can do. By nature, it's intense — a running pace is typically over 5 mph. At that pace you can burn 240 to 355 calories in 30 minutes, depending on how much you weigh. Push your pace up to 6 mph and you'll burn as many as 444 calories in 30 minutes.
If you're not currently up to running a 10-minute mile, don't sweat it. Even at a jogging pace, you can burn 180 to 266 calories per half hour. Try to increase your pace a little each week, or alternate spurts of running with spurts of jogging to up your calorie burn.
Peddle it Away
Cycling is an enjoyable cardio activity that's easy on your joints and has the potential to torch calories. Whether you ride the stationary bike or take to the streets, you'll burn upwards of 210 calorie per half hour depending on your weight and pace.
Cycling intensely can lead to some serious calorie burn — over 500 in 30 minutes! And if you've ever admired a cyclists legs, you can use that image as your motivation to keep going.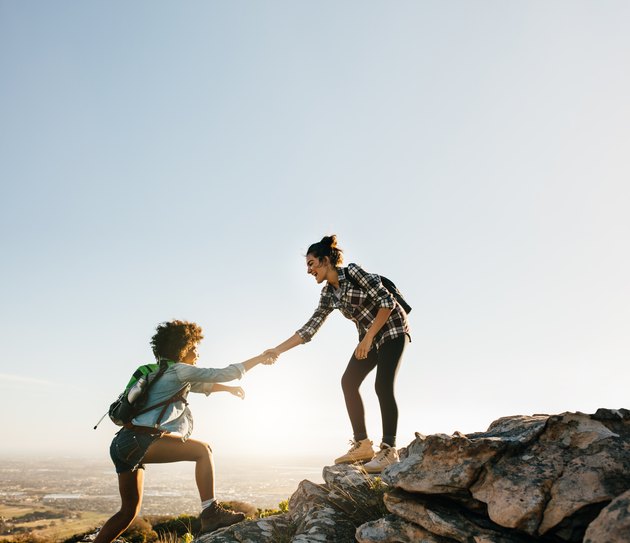 Climb After Your #ThighGoals
Hill walking may not be your idea of a good time, but you'll love the way your legs look if you do enough of it. Not only is it tough, and therefore a fat-blaster, but it also works the quadriceps and hamstring muscles in your thighs to tone and shape in all the right places.
You can hop on a stair climber at the gym and burn 180 to 266 calories per half hour, or you can head outdoors and hike uphill to burn about the same amount.
HIIT It
The more effort you exert, the more calories you burn. If you ran at a sprinting pace for 30 minutes, you could burn 500 to 700 calories. But who can do that?
That's where high-intensity interval training, or HIIT, comes in handy. In a HIIT workout, you alternate periods of your most intense effort with periods of recovery. It allows you to get your heart rate up to a level that causes metabolic adaptations that lead to serious fat burn — more than you'd burn doing moderate, steady-state cardio.
You can turn almost any cardio workout into a HIIT workout. Just alternate 30 seconds to 2 minutes of all-out effort with 30 seconds to 2 minutes of recovery at an easy pace. Because HIIT is so intense, you only need to do it for about 15 to 20 minutes to get great results. However, you shouldn't do it every time you work out. Two or three times a week on non-consecutive days is a good goal.
Work it in a Circuit
In addition to fat-blasting cardio, doing resistance training at least two times a week will rev your metabolism and give you sleek, sexy muscles once the fat comes off. Weightlifting can be cardio, too, if you do it right.
Choose compound exercises that use several muscle groups at once — squats, push-ups and lunges, for example. These burn more calories than isolation moves like biceps curls. Add in a few heart-pounding plyometric exercises — jump squats, burpees or box jumps — and a burst of high-intensity cardio like jump-roping. Do one exercise after another in a circuit, with no rest in between. Repeat for three to five rounds.
If sweating buckets is any indication of calorie burn, you'll get all the evidence you need.