Calcium helps to make your bones strong, and also allows your muscles, nerves and blood vessels to work. Many foods contain calcium, including dairy foods, certain types of beans, broccoli, and almonds. Sometimes, you may have to take a calcium supplement if you are not getting enough calcium from your diet. The best time to take a calcium supplement may not be at an actual time, but may depend on your diet. Always ask your doctor before starting a supplement.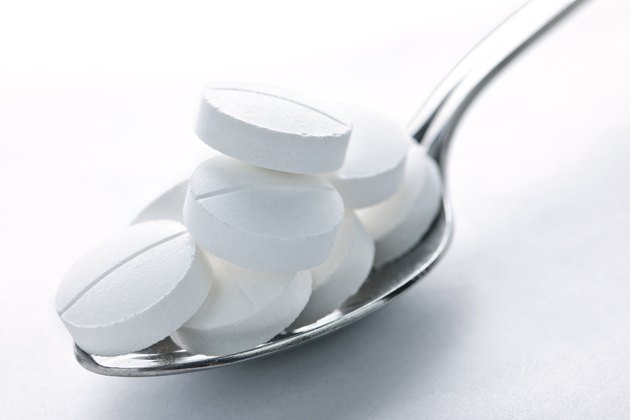 Supplement Types
Calcium supplements are usually sold as calcium citrate or calcium carbonate. Calcium carbonate is usually the least expensive form of calcium, and should be taken with food. Calcium citrate and calcium citrate malate can be taken with or without food, but tend to be more expensive. Taking calcium shouldn't cause constipation, but if you are on other drugs or supplements that cause constipation, calcium citrate may be a better choice for you. Calcium supplements are best absorbed when you take 500 milligrams or less at a time, so check your doses and split them up throughout the day.
Sodium
Sodium and calcium compete in your kidneys to be re-absorbed into your body. This means that when you eat a high sodium meal, and you ingested calcium, either from your diet or as a supplement, that more sodium may be re-absorbed into your body and the calcium may exit your body in your urine. Sodium is a component of table salt and can also be found in many other foods, including grains, milk, or meat products. Sodium is also found in high amounts in processed foods. Avoid taking a calcium supplement with a salty or high sodium meal, and instead take a calcium supplement with a low sodium meal, like a piece of fruit.
Caffeine and Protein
Caffeine and protein may both cause your body to lose calcium. When you eat a lot of protein, your body can lose more calcium. If you eat a lot of protein, ask your health care provider if you should take more calcium. Caffeine has been shown to temporarily increase the amount of calcium that your body loses in urine for about three hours. Caffeine is found in coffee and tea, as well as certain soft drinks, energy drinks and medications. Try to take your calcium supplement more than three hours after you have caffeine.
Iron Supplement
If you are taking an iron supplement, do not take your calcium supplement within the same two-hour period. You should take these supplements at different meals to give your body a chance to absorb each supplement. Iron is best absorbed when taken with a meal containing vitamin C. You can take your iron supplement with breakfast containing orange juice, and your calcium supplement with lunch or dinner, more than three hours after having caffeine.