If you want to look good on the beach or in a sleeveless shirt, it's essential to keep your arms thin and toned. Unfortunately, this is not easy, especially since most typical daily activities do not work the upper arms. Women have a tendency to store fat in their upper arms later in life, making the problem even worse. To shrink arm fat you must work to lose weight over your entire body and engage in regular strength-training exercise to trim and tone your triceps.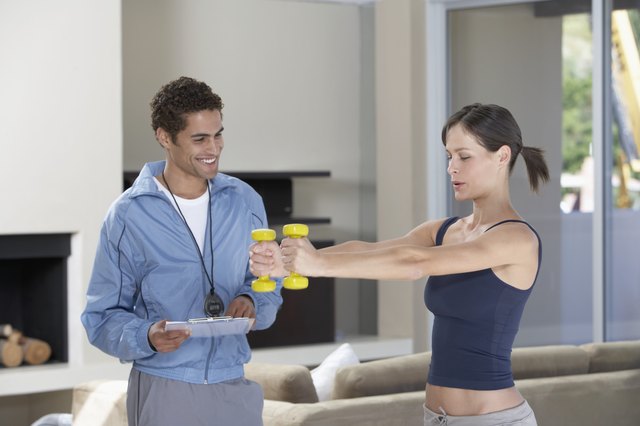 Step 1
Set realistic goals. Shrinking arm fat can be extremely difficult and requires dedication and time. Your genetics may also interfere with your goal, as can any health conditions that interfere with dietary changes or modifications to exercise routines.
Step 2
Exercise regularly to burn calories, build muscle and lose overall body weight. Because no special exercise will target only the fat in your arms, you must focus on shrinking fat on your entire body. To lose weight without compromising your health, get plenty of exercise and sleep, cut about 500 calories from your daily intake, and aim to lose no more than 2 lbs. per week. Losing more than that can actually lead to a reduction in muscle mass and flabbier arms, according to HelpGuide.
Step 3
Eat plenty of fiber to curb your appetite and help you last longer between meals. The Centers for Disease Control and Prevention also recommends choosing foods that are high in nutritional content but low in calories, such as fruits, vegetables, whole grains and broth-based soups.
Step 4
Lift weights to build muscle in your arms, giving them a thinner, toner appearance. Marcus Minier, an exercise physiologist from New York City, recommends engaging in fun activities that will work your triceps, such as skiing and tennis. Varying the types of exercises you do when lifting weights will ensure your arms get a complete workout.
Step 5
Speak with a cosmetic surgeon about liposuction or other cosmetic procedures to shrink your arm flab and improve your appearance. If you've tried dietary and lifestyle changes and remain unsuccessful at reducing your arm size, plastic surgery may be your only option.