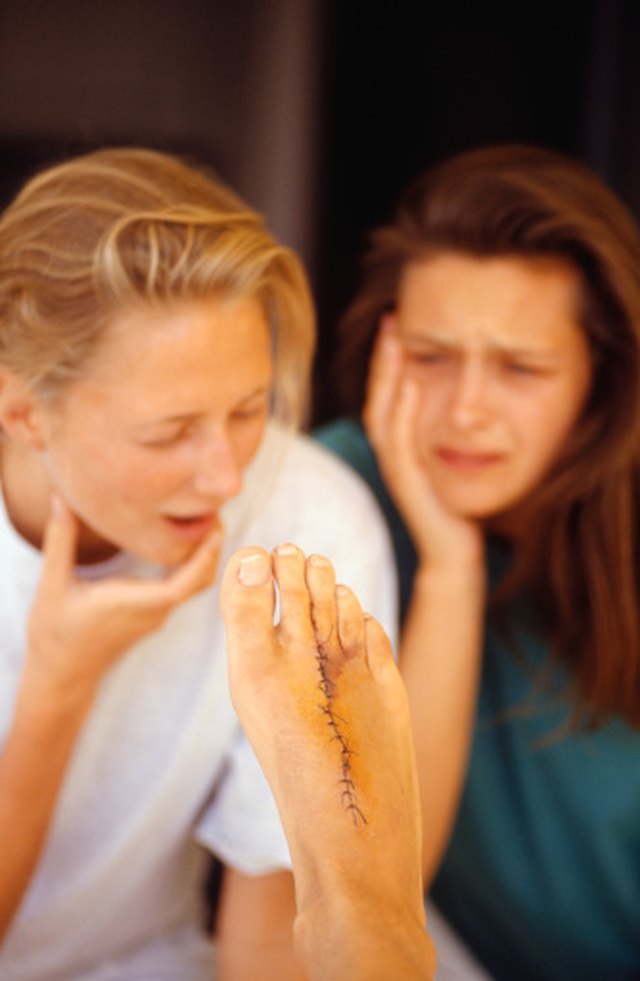 The first 24 to 48 hours after you receive stitches is critical to your healing process. Your doctor will typically recommend you rest and apply ice packs to the wound to reduce swelling. Exercise must wait an appropriate amount of time to allow the healing process to begin. When you can exercise will depend on the type of wound and how long it takes to heal.
Types of Sutures
Your doctor will use one of several types of sutures depending on your wound. Absorbable sutures actually break down in your tissues after a certain period of time, and are often used during surgeries that involve internal organs or tissues. Non-absorbable sutures are the type you typically see above your skin. If you have a superficial wound, your doctor likely used this type to close it up. Non-absorbable sutures must be removed when the wound has healed enough to stay together on its own. Certain internal organs also require stitches that will not break down after a few weeks; your heart, blood vessels and bladder need non-absorbable stitches.
Exercise and Sutures
Whether or not you can exercise soon after receiving stitches depends on the type of wound and your doctor's recommendations. The Dermatologist Medical Group of North County in California suggests waiting 48 hours after surgery before attempting to exercise. If the wound is not painful, bleeding or red, light aerobic exercise -- like walking, jogging or riding a bike -- is allowed. If you are going outside, cover your wound to avoid dirt and debris from lodging in the site. If your wound is underneath clothing, covering it is still recommended; abrasion from your clothes, as well as sweat, can inflame your wound.
Strenuous Exercise
Strenuous exercise, which can stretch your sutures, is not recommended until after your wound has healed and stitches are removed. Strenuous exercise includes intense aerobic activity as well as lifting weights or performing difficult tasks around the house. Avoid swimming as well until after your sutures have been removed.
Internal Sutures
If you had surgery and went home with internal stitches, you may have to wait longer to exercise. Because your sutures are inside your body, it is more difficult to tell if you have wound complications. After tummy tuck surgery, you may not be able to exercise for four to six weeks or work out your abdominal area for up to three months after surgery. Your wound needs time to build up scar tissue to hold the sutures in place. Talk to your doctor and follow his advice. Tearing sutures will result in more damage and more inactivity.