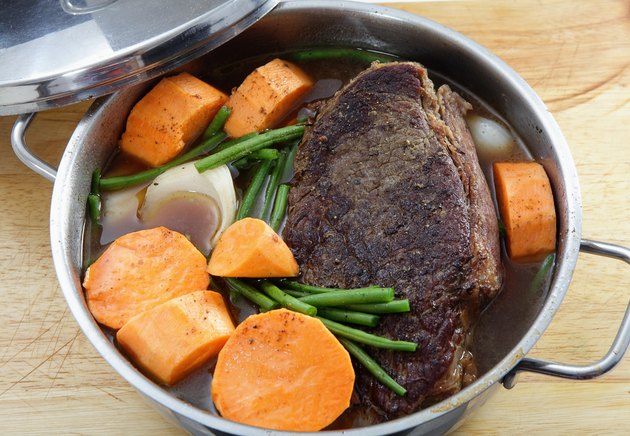 Even if you're super organized, there will be times when the meat you want to roast for dinner is still frozen solid. Fortunately, that doesn't have to wreck your plans, as the best frozen roast recipes rival any cooked from fresh. You just need to follow a few rules for succulence and safety.
Tip
Official advice both from the USDA and Crock-Pot is that you should not slow cook meat from frozen. Crock-Pot's press office tells LIVESTRONG.com: "All of our slow cooker recipes call for starting with fresh or thawed meats".
Safety Concerns with Frozen Meat
Even though the meat in the slow cooker will eventually reach a safe temperature, this will take much longer than if the meat is cooked from fresh or thawed, especially when you're talking about a large roast.
Typically the meat will be held at the temperature bacteria love to multiply at for several hours. With increased numbers of bacteria requiring destruction, there's an increased food poisoning risk, especially if you're in a rush to get the meal to the table.
Best Frozen Roast Recipes
Though roasting meat in a slow cooker isn't advised, you can safely cook a delicious frozen roast in the oven. Pork Checkoff advises that you'll achieve the best frozen roast recipe by oven-roasting pork at a temperature of 325 F and cooking the meat for 50 percent longer than you would if it were fresh. The same applies to beef or lamb, as well.
An advantage of cooking from frozen is you don't have to deal with the risk of raw meat juices dripping in our fridge or onto your kitchen surfaces. Nor does the meat take up refrigerator space.
If you have very little time to get a frozen roast to the table, you can also cook it using a pressure cooker — either an old-fashioned stovetop one or one of the newer generation electric pressure cookers such as an Instant Pot, Crock-Pot Express or other similar brand. Crock-Pot tells LIVESTRONG.com: "The Crock-Pot Express with pressurized cooking is a better method to cook frozen meat if the consumer does not have the time to thaw".
With this type of pressure-cooking you can go from frozen to pot roasted in around an hour and a half (plus resting time), for a substantial 3 to 3 ½ pound boneless chuck beef roast, with all the vegetables included in the pot as well. For best results, follow the guidelines for your particular device.