Cooking with a Crock Pot can save you time when you have a hectic schedule. Not only can you cook foods from a frozen state, but they simply cook slowly all day long and are done by dinner time. With a little planning, you can take a beef roast straight from the freezer, place it in the crock pot with the right seasonings and be rewarded with a nearly effortless meal with all of the traditional trimmings.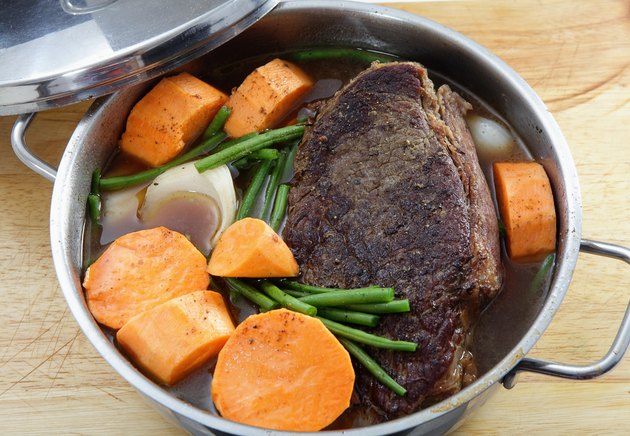 Step 1
Place the frozen beef roast into the Crock Pot and set it depending on how much time you have to cook the roast. If you plan on cooking for eight to nine hours, set the crock pot to low. If you only have four to five hours, set the crock pot to high.
Step 2
Spread the cream soup over the roast without diluting with water. Open the onion soup packet and sprinkle on the top of the roast.
Step 3
Slice the potatoes into quarters with the skin on and place them around the roast in the Crock Pot. Open the bag of baby carrots and position them around the roast as well. Add a chopped small onion and any other vegetables you prefer.
Step 4
Place the lid on the Crock Pot and turn it on. There is no need to turn the meat. Since the lid traps some of the steam for cooking purposes, avoid opening the crock pot to check for doneness. Set a timer for the amount of time the roast needs according the heat level.
Step 5
Insert a meat thermometer into the thickest part of the roast when the timer sounds. The internal temperature should be at least 145 degrees Fahrenheit. Use tongs to place the roast on a plate for carving and arrange the potatoes and carrots with the beef. Use the drippings in the crock pot to moisten the beef prior to serving.
Things You'll Need
5-lb. frozen beef roast

Onion soup packet

Can of condensed cream soup such as mushroom or celery

Small onion

3 to 4 small potatoes

1-lb. bag baby carrots