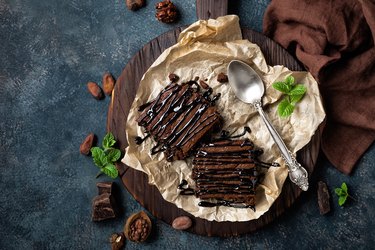 Maybe you're just an old-school baker who swears by butter, but when you skim through the directions on a box of store-bought brownie mix and see it calls for vegetable oil, it seems a little off. You may start wondering, "Can I substitute butter for oil in brownies?"
When it comes to the debate of oil versus butter, most health experts are going to lean on the side of oil. It's not a calorie thing — butter and oil have the same number of calories per gram.
But it's how these different types of fats affect your body that's important. As the U.S. National Library of Medicine notes, butter and other animal fats are high in saturated fats, which can raise your blood cholesterol and increase your chances of heart disease.
Oils, such as canola oil and olive oil, are great sources of dietary fat that won't hurt your heart. But butter does have its advantages. Piedmont Healthcare points out that butter can't really be beat when it comes to baking because of the ideal texture it creates.
However, according to the American Heart Association, oils and fats can be used in the same way when cooking and baking, so if a recipe calls for vegetable oil, you can use butter; if another recipe calls for butter, you can use vegetable oil.
So in a way, any fat — butter, margarine, olive oil and so forth — could potentially be a substitute for vegetable oil in brownies. The bigger question is whether it will it have the right taste and texture you want.
Substitute Butter for Oil
If you're making brownies, you might have already resolved that they're an indulgent treat, so you're not too hung up on the health differences between butter and vegetable oil.
Maybe butter is more convenient — for example, you have plenty of butter in the fridge but just realized your bottle of canola oil is down to the last few drops — or you just prefer the taste of butter. In any of those cases, can you proceed?
Well, the simple answer is yes, according to Betty Crocker, which makes many dry brownie mixes and other baking mixes available on the market today. As the team at Betty Crocker explains, you can substitute butter for oil in brownies by using the same measurements.
Simply melt the butter down and let it cool slightly before adding it to the mix. Because of butter's taste and texture, it might even improve the recipe.
Bob's Red Mill explains that oil and butter are sometimes not interchangeable depending on what purpose one is supposed to serve in the recipe. This is because butter is solid at room temperature and is full of tiny air bubbles that help it keeps its shape.
When heated, butter will melt and spread, which is why it gives baked goods such a nice texture. Oil will simply vaporize when heated.
For recipes like cookies, which require you to cream the butter with sugar, you're going to have a hard time creaming oil with anything.
Don't think this means that butter is always the way to go. For some baked goods, oil can be a better option. Duff Goldman from "Ace of Cakes" recently shared with Rachael Ray that his secret to making an extra moist cake is to use oil instead of butter.
In other situations, you might not even need to use a fat at all. If you need a substitute for vegetable oil in muffins, for example, you could opt to use applesauce, such as in these banana berry muffins from the USDA.
Another substitute for vegetable oil in muffins might be a combination of applesauce with milk, such as in these apple oatmeal muffins.
In many ways, finding the right substitute for vegetable oil in brownies (or finding the right substitute for vegetable oil in muffins, or in cake or in any other baking recipe) is going to be a matter of taste and experimentation.
Try out oil. Try out applesauce. See how it works. Like so many other innovators, you might find something that works even better.