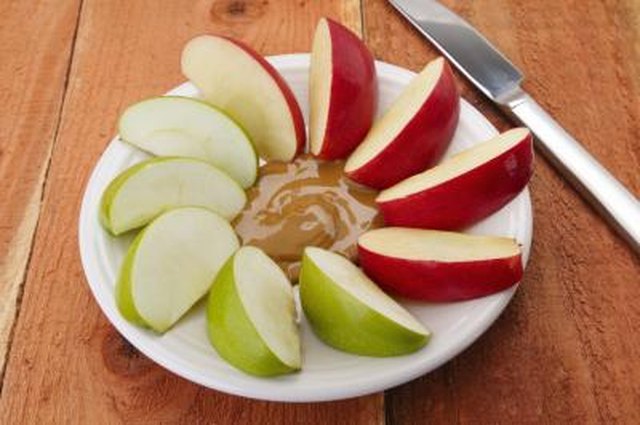 When you're trying to stay healthy, lose weight and get in great shape, it can be difficult to determine which snacks are healthy and which aren't. Apples with peanut butter are actually a very healthy snack to eat any time of the day. Although apples with peanut butter is a snack that is high in calories and fat, it is nothing you need to be concerned about as long as you choose natural peanut butter over regular.
Natural Peanut Butter vs. Regular
There is a big difference between natural peanut butter and regular peanut butter. Simply put, natural peanut butter is healthy and regular peanut butter is not. Natural peanut butter typically consists of no more than peanuts and salt. Sometimes it may contain extra vitamins or natural sweeteners, like molasses. Regular peanut butter, on the other hand, contains large amounts of filler ingredients, such as sugar and hydrogenated vegetable oils. So, if you want your apples with peanut butter to be truly a healthy snack, avoid regular peanut butter and go with the natural.
Good Fat Source
Peanuts are high in monounsaturated fat, which is good for you, and it helps your body burn fat and build muscle. The monounsaturated fat found in peanuts also has other health benefits, such as lowering cholesterol and reducing the risk of heart disease. It is even recommended by The American Heart Association.
Good Source of Protein and Fiber
A single serving of peanut butter, which is 2 tbsp., contains approximately 7 to 9 grams of protein and about 1 gram of fiber. In addition, an apple contains a little more than 3 grams of fiber. So, while apples and peanut butter aren't exactly exploding with protein and fiber compared to a lot of other foods, as a midday or post-workout snack, they are a great additional source. If you're a vegan or vegetarian, eating apples and peanut is an excellent way to add more protein to your diet.
High in Energy
Apples are very low in calories but peanut butter has a lot. One serving of peanut butter has about 200 to 250 calories. This covers approximately 12.5 percent of your daily allowance, based on a 2,000-calorie diet. Typical logic might suggest that if a snack is high in calories, it is also unhealthy or bad for you, but this is not true for apples and peanut butter because the calories are useful to your body and will give you lots of energy. The calories in peanuts mostly come from fat and protein, both of which your body needs. The calories in an apple come in the form of simple carbohydrates, which your body can use as a quick-burning fuel, perfect for before or after you exercise.