Tamales are a delicious way to experience traditional Mexican flavors. These treats, consisting of seasoned meat or vegetables surrounded by corn masa, are usually steamed inside a corn husk or banana leaf until the outer layer is cooked. The wrapping is then discarded and the piping-hot tamales are served with salsa or Mexican crema. Since the forming and wrapping of the tamales is work intensive, they are often made in large batches by two or more people as a social event. If you don't have a steamer big enough to accommodate these large batches don't worry, they can also be "steamed" in the oven.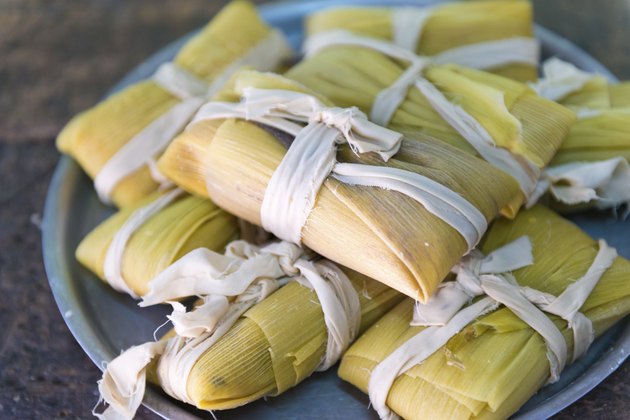 Prepare
Step 1
Preheat the oven to 375 degrees.
Step 2
Rinse the corn husks and place in a large bowl of warm water for softening.
Step 3
Prepare the filling of your choice – sautéed peppers and sausage, for example.
Step 4
Mix three parts of masa harina, or corn flour, with salt and pepper according to your tastes.
Step 5
Stir in two and a half parts warm water and set aside.
Step 6
Whip one part vegetable shortening or lard in a separate bowl until fluffy.
Step 7
Add the shortening to the masa harina a little at a time, stirring to form the dough. When the shortening is fully incorporated, the dough should have the consistency of soft paste.
Assemble and Bake
Step 1
Pat a corn husk dry and spread a spoonful of masa mixture in the middle of the husk.
Step 2
Add an even smaller amount of filling on top of the masa mixture, allowing the masa to completely surround the filling when the husk is wrapped.
Step 3
Carefully wrap the husk around the masa, simultaneously sealing the filling within a masa capsule.
Step 4
Tie the corn husk closed with string or strips of husk.
Step 5
Repeat until you've assembled all of the tamales.
Step 6
Stand the tamales up in a casserole pan or other baking dish with sides high enough to keep the tamales upright.
Step 7
Pour approximately 1/2 inch of boiling water in the bottom of the casserole and place it into the oven.
Step 8
Continue to replenish the water as the tamales "steam" in the oven, never allowing the pan to dry out completely.
Step 9
Remove a test tamale to check for doneness. The cooking time will vary depending upon tamale size, but should average about 30 minutes. When done, the masa will be firm but not hard.
Step 10
Serve with your choice of salsa or Mexican crema.
Things You'll Need
Corn husks or banana leaves

3 bowls

Masa harina

Vegetable shortening or lard

Tamale filling

Baking dish
Tip
Prepare the masa harina according to the package directions for best results as products may vary.