The world of women's clothing sizes is often confusing and frustrating, since there is no standardization from brand to brand and women vary in their shape over their lifetime. The dress size you wear depends on your height and where and how you carry your weight. Misses and women or plus sizes are cut very differently, so there is no set rule about the weight you have to lose to go down a size.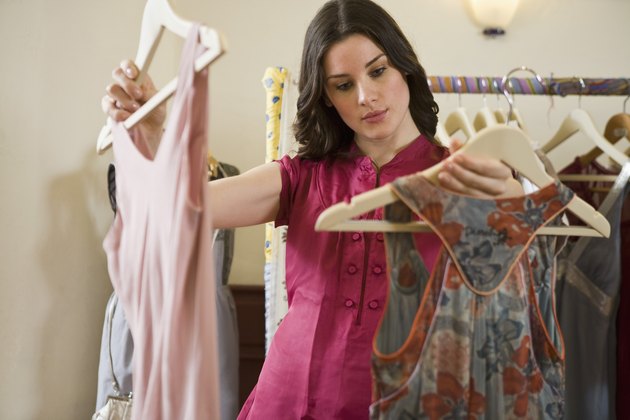 How Dresses are Sized
According to the sizing chart on the LLBean website, there is a 1-inch difference in the hips for each size from 0 through 10. From size 10 to 16, there is a 1-1/2-inch difference between sizes. From size 16 to size 18 and above into women's sizes, there is a 2-inch difference; sizing at other retailers may differ. This means that the amount of weight you need to lose to drop three sizes varies based on what size you currently are.
Inches Versus Pounds
When it comes to dropping dress sizes, inches matter more than weight. The difference between losing inches and losing weight comes down to body composition. Since muscle weighs more than fat, if you are gaining muscle and burning fat at the same rate, you may be losing inches and improving your body fat percentage without a change on the scale.
Losing Inches
A combination of diet, cardiovascular exercise and strength training are the best way to lose both inches and overall weight. A program like the one suggested by Dr. Micheal Roizen and Dr. Mehmet Oz in Good Housekeeping is a good starting point. They recommend 30 minutes of moderate cardio such as walking every day and two sets of full-body strength exercises to exhaustion at least three days per week.
Measuring Your Body
Track your progress by measuring the inches of your waist and hips about once every other week. The Center for Disease Control and Prevention recommends measuring your waist by placing a measuring tape at the top of your bare hip bone -- where your pants would normally sit -- and wrapping it around your body in one straight line, parallel to the floor. To measure your hips, place the tape across the widest part of your bottom in one straight line parallel to the floor. In both cases, pull the tape snug but not so tight that it leaves a mark when you pull it away.