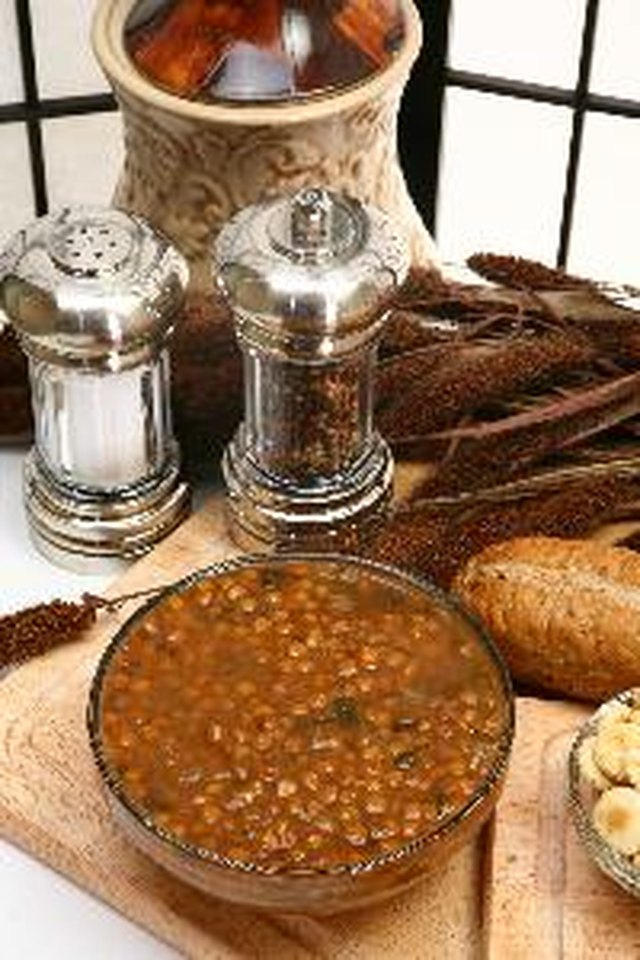 Most adults experience anal itching, discomfort and bleeding associated with hemorrhoids at some point, according to the National Digestive Diseases Information Clearinghouse. Internal hemorrhoids typically cause bloody stool and less pain than external, or prolapsed, hemorrhoids. If a blood clot forms in an external hemorrhoid, the dissolved clot may leave itchy, excess skin behind. A low-fiber or low-fluid diet, chronic constipation and pregnancy are common hemorrhoid causes. Certain foods may help to minimize your symptoms.
Legumes
Legumes, such as beans, lentils and split peas, provide valuable amounts of protein, micronutrients, such as B-vitamins and iron, and fiber. Increasing your fiber intake can increase stool softness and ease pressure on hemorrhoids during bowel movements. Americans consume 15 g of fiber daily, on average, according to the NDDIC, which is well below the daily recommended amount of 25 g daily for women and 38 g daily for men. A one-cup serving of cooked lentils provides more than 15 g of fiber. Cooked lima beans provide close to 11 g per cup. To increase the fiber content of common dishes, replace ground beef and other meats with legumes in chili, casseroles, soups and tacos. Additional fiber-rich varieties include chili beans, white beans, black beans, chickpeas and kidney beans.
Whole Grains
Whole grains contain all nutritious parts of the grain. As a result, they provide more micronutrients, such as selenium and folate, protein and fiber than refined grains, such as enriched flour. A one-cup portion of cooked, pearled barley supplies 6 g of fiber. While white Italian bread provides less than 1 g of fiber per slice, one slice of whole grain bread provides nearly 2 g. If you currently consume refined grain products, such as enriched white or wheat bread and instant rice, consume whole grain equivalents instead for higher fiber intake and reduced constipation and hemorrhoid strain. Additional fiber-rich whole grain foods include long-grain brown rice, wild rice, air-popped popcorn, oatmeal and whole grain cold cereals.
Fruits and Vegetables
Fruits and vegetables are top sources of antioxidants, such as vitamin C and beta-carotene, which promote a strong immune system. As valuable sources of fluid and fiber, fruits and vegetables may also help to manage hemorrhoid symptoms. A one-cup serving of fresh raspberries provides 11 g of fiber. A medium-sized mango provides nearly 4 g. Fiber-rich vegetables include broccoli, leafy greens, cabbage and boiled carrots. Choose whole, colorful fruits and vegetables over juices, which contain less fiber. Juices do, however, promote hydration. Particularly hydrating produce varieties include berries, citrus fruits, tomatoes, cucumbers, melon, water chestnuts and celery. Broth-based vegetable soup is a rich source of hydration and fiber.
Fluids
In addition to hydrating fruits and vegetables, consuming plentiful amounts of fluid is important for alleviating hemorrhoid strain. MayoClinic.com recommends drinking six to eight glasses of water and other non-alchoholic liquids per day for stool softness. Additional hydrating fluids include herbal tea, low-fat milk, fresh fruit smoothies, gelatin, ice chips and all-fruit frozen bars. Spending time in hot weather and exercising intensely increase your fluid needs.