Some people follow a low-carb diet and avoid bread altogether, but this isn't necessary if you want to lose weight. Comparing the nutrition facts for different types of bread can help you choose the best one for your diet. Sourdough bread is one of the oldest types of leavened bread, with a history dating back to the ancient Egyptians, according to an article on the NPR website.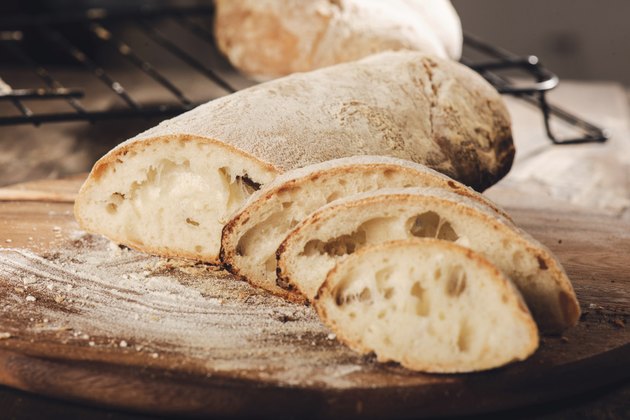 Calorie Content
Although different types of bread can vary in calories, sourdough bread isn't usually the lowest-calorie option. A small slice has about 92 calories, compared to about 81 calories in a slice of whole-wheat bread and about 74 calories in a slice of white bread. You need to create a calorie deficit of 3,500 calories in order to lose one pound, which may be easier to do if you choose a bread other than sourdough.
Fiber Content
It can be hard to cut calories and lose weight if you're always hungry. Foods that are high in fiber may help you feel full for longer because they slow the emptying of your stomach. This can make it easier for you to stick to your recommended calorie limit for the day. Typically a white bread, sourdough has only about 0.8 grams of fiber per slice. Whole-wheat bread is a better choice for weight loss, with 1.9 grams of fiber, or 8 percent of the recommended daily value for fiber. If you prefer sourdough, look for a whole-wheat version.
Glycemic Index
Foods that are acidic, such as sourdough bread, have a lower glycemic index, or GI, than those that are less acidic, which means that they have less impact on blood sugar levels. Foods low on the glycemic index may be more filling than other foods, notes an article in "Appetite" in November 2007. Whether this improves weight-loss results is debatable. A study published in "Clinical Nutrition" in August 2008 found that people following a low GI diet lost more weight than those who followed a diet higher on the glycemic index. Another study, published in "Diabetes Care" in December 2005, found that only people who secrete high amounts of insulin lose more weight on diets low on the glycemic index.
Protein Content
Following a diet high in protein may help you maintain more muscle as you lose weight, especially if you combine the diet with exercise, according to an article published in "The Journal of Nutrition" in August 2005. While whole-wheat bread has slightly more protein than sourdough bread, with 4 grams per slice compared to 3.8 grams, both of these breads are better sources of protein than white bread, which has only 2.6 grams per slice.