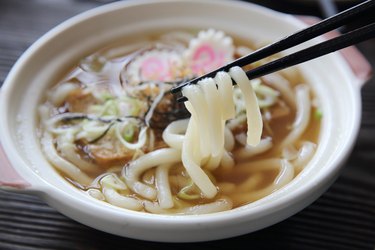 Udon noodles are a type of Asian noodle that can be found in soups, broths or even cold salads. If you're a fan of noodles and carbohydrates in general, you may wonder what udon noodles nutrition consists of. Here's how to make udon noodles recipes that are both tasty and healthy.
Tip
Udon noodles are typically made from wheat flour, water and salt, making them high in carbs and low in fat, vitamins and minerals. Make the healthiest udon dishes by choosing whole-wheat udon noodles and adding them into creations with vegetables and lean proteins.
What Are Udon Noodles?
Udon noodles are a type of Japanese wheat-flour noodle used commonly in soups. Unlike ramen noodles, which are very thin, udon noodles tend to be thicker and chewier. Like most pastas and noodles, udon noodles are mostly carbs, with small amounts of protein and very low levels of fat. They're typically just made with wheat flour, salt and water.
You'll see udon noodles mixed with a variety of toppings, sauces and meats in different dishes. You may see them as an option in ramen bowls or other types of soups. In a simple noodle soup known as kake udon, udon noodles settle into a broth made of soy sauce, dashi and mirin, which give it an umami taste. You may also see udon noodles topped with tempura, tofu, prawns or fish cakes.
You'll find that udon noodles nutrition is largely composed of carbs. One cup of udon noodles contains about 274 calories, 10 grams of protein, 53 grams of carbohydrates and 213 milligrams of sodium.
Udon Noodles Nutrition
While plain udon noodles — consisting simply of wheat flour, water and salt — may not be a terrible foe in your diet plan, they're not exactly the most nutritious food either. Udon calories from wheat flour are low in fat and cholesterol, but they don't have high levels of healthy nutrients like calcium, vitamin C or vitamin A.
You'll also want to be careful what type of noodles you're buying and check the nutrition labels. Many noodles, especially instant noodles, are made with higher amounts of sodium, fat and oils, which increases udon calories.
In a July 2019 study published in BMJ Open, researchers measured salt levels in more than 700 instant noodle products across 45 different brands in Malaysia. Among the products that were labeled, the mean salt content was around 4.5 grams, much more than the daily recommended amount (1.500 to 2,300 milligrams). They also found that 40 percent of instant noodles didn't have salt content labeling.
While these high levels of sodium were likely due to the flavor packets, some types of instant noodles contain a lot of salt on their own, without even adding in the powder. That's because they are often made with white flour, palm oil and salt.
Be careful when choosing udon noodles recipes and make sure you're aiming for the healthiest version of these noodles. The best option will be to pick whole-wheat udon noodles that are low in sodium. Then embellish your udon noodles nutrition by adding in vegetables or protein that can increase your nutrient count.
You can make excellent well-balanced dishes starting with your whole-wheat noodles as a base and create some great udon noodles recipes as stir fries. Keep udon calories low by mixing lean protein like chicken, ground turkey or tofu with vegetables of your choice like broccoli, bell peppers and onions. Adding in low-sodium soy sauce, garlic, crushed red pepper and a bit of sesame oil will give your dish flavor.