For guilt-free baked goods, applesauce makes a fine stand-in for vegetable oil. Applesauce adds not only moisture and flavor to baked goods, but fiber and nutrients. Using it successfully takes some experimentation, though. Stick with oil or butter for cookies, and substitute only part of the oil initially.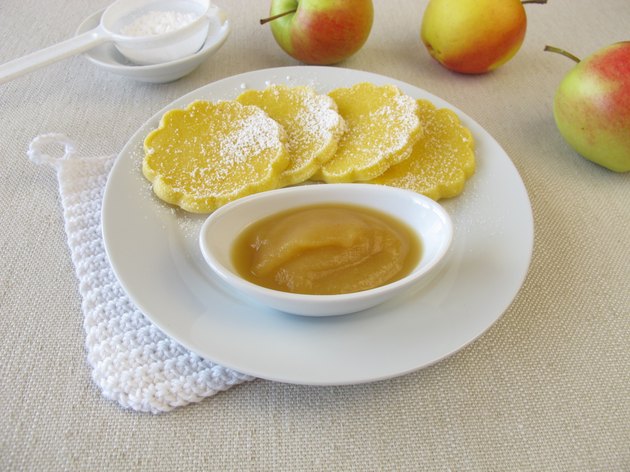 Step 1
Substitute applesauce for oil in cakes, quick breads or muffins that are already somewhat moist and dense. Applesauce works well in carrot cake, chocolate cake, spice cake or gingerbread cake, as well as most muffin and quick bread recipes. Brownies made with applesauce tend to be dry and crumbly, while cookies turn out puffy and cake-like, rather than crisp or chewy.
Step 2
Use unsweetened, unflavored applesauce as a substitute for oil. Sweetened varieties add extra sugar, which can alter the texture of the baked good and applesauce flavored with cinnamon or other flavorings will change the taste
Step 3
Measure applesauce with a glass measuring cup, using 3/4 the amount of oil called for in your recipe. For example, if a recipe calls for 1 cup of oil, use 3/4 cup. If the batter seems dry, add a tablespoon or two more.
Step 4
Reduce the oven temperature by 25 degrees and reduce the cooking time by 5 to 10 minutes. Baked goods made with applesauce tend to cook faster than those containing oil and they're prone to drying out. Remove them from the oven as soon as they spring back lightly when touched, or stick a toothpick in the center of the cake. It's done when the toothpick comes out with just a few moist crumbs.
Things You'll Need
Unsweetened applesauce

Glass measuring cup
Tips
Applesauce changes the texture and taste of baked goods and some recipes respond better than others. When in doubt, start by eliminating half the oil, rather than the entire amount. If you're happy with the results, you can experiment with using less oil next time. To substitute some of the applesauce, use applesauce at a rate of 3/4 cup for each cup of oil. For example, if a cake calls for 2 cups of oil, reduce the oil to 1 cup. Substitute 3/4 cup of applesauce for the remaining cup of oil.
Applesauce is an inexpensive, widely available product that has a neutral flavor, but it's not your only option. Try pureed avocado for a creamy, mild flavor, or pumpkin, squash, banana or prune puree. These ingredients add a distinct tastes to baked goods and work best in highly flavored cakes, such as chocolate or spice cake.