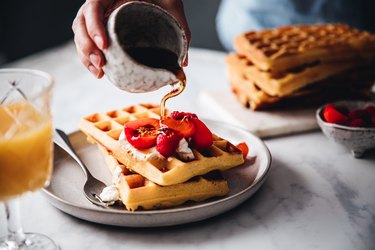 Although they look different, waffles and pancakes are basically made of similar ingredients, says Chef Erica Barrett of the pancake and waffle mix brand SoCu Kitchen.
"The cooking method is different, but the mixes are basically the same." That's why you can easily dream up Belgian waffles with a dry pancake mix from the grocery store.
All you have to do is adjust some of the amounts of the ingredients (and maybe add an extra ingredient or two). Most pancake mixes provide directions on the box for using the product to make Belgian waffles, but if yours doesn't, you can follow these general guidelines.
Can You Make Waffles With Pancake Mix?
Yes, but making waffle batter instead of pancake batter does require a different method, so you'll need to make a few alterations to the prep process, Barrett says.
Just reduce the egg amount by half and increase the milk by 25 percent, Barrett says. You'll want to double the amount of melted butter to achieve that golden brown color.
How to Use Pancake Mix to Make Waffles
Things You'll Need
Waffle iron

2 cups dry pancake mix

1 1/4 cup milk

1 egg

2 tbsp. butter

Bowl

Mixing spoon

Oil spray or liquid butter
Turn on your waffle iron and allow it to heat up while you prepare the batter.
In a large mixing bowl, prepare the batter with 2 cups of pancake mix, 1 egg and 1 ¼ cup milk. (Note that this is different from the 2 eggs and 1 cup milk per 2 cups of mix you would use if you were preparing pancake batter.)
The trick is to reduce the egg amount by half and increase the milk by 25 percent, Barrett says. "It sounds specific, but I promise, it works."
Finish off the batter by stirring in a small amount of melted butter (about 1 to 2 tablespoons, depending on taste).
Tip
If you want crispier waffles, swap the butter for a neutral-tasting oil, such as canola or vegetable oil.
When the waffle iron is hot, spray it with oil spray or liquid butter, Barrett says. This will give your waffles that golden brown color and will prevent them from sticking to the iron.
4. Pour Batter Into the Iron and Cook
Scoop the batter into the waffle iron with large spoonfuls and close the iron. Allow the waffles to cook for about 5 minutes or until they have a golden-brown color.
5. Set Aside Unused Batter for Another Day
If you love homemade waffles but don't like the busywork of preparing the batter, you can make a big batch and set it aside. Pancake or waffle batter will hold up for a day, according to Barrett.
Although uneaten waffles can be frozen and heated up another day, they won't taste as good. But if you do decide to freeze them, she encourages putting them in quality resealable bags and removing as much air from the bag as possible before freezing. Store them for no longer than 3 months, she says.