Sweet, yeasty Belgian waffles are a Sunday morning favorite for kids of all ages. The Belgian waffle recipe is different from classic waffles because of the thickness of the waffle and the sugary crunch that comes from caramelizing the beet sugar inside the waffle. Belgian waffles can be topped with anything that you have a taste for, from the traditional chocolate Belgian waffle syrup to dulce de leche or fruit compote. If you don't have a mix or a recipe handy, you can make them from regular pancake mix with a few minor substitutions.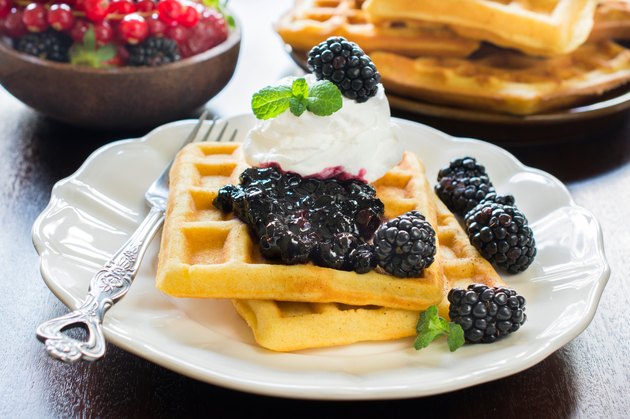 Step 1
Pre-heat your waffle iron and spray the iron with cooking spray.
Step 2
Beat the egg lightly and mix it with the other ingredients. The batter should be thick and slightly bubbly.
Step 3
Ladle some of the batter onto the waffle iron. Use the bottom of your ladle to spread the batter around the iron.
Step 4
Close the waffle iron and let it cook for 2 minutes. Open the waffle iron slightly. If the edges are golden brown and slightly crispy, they are ready. If the waffle still looks doughy and raw, it needs more time. Give it one more minute.
Step 5
Use a fork to pull up the edge of the waffle. Remove the waffle from the waffle iron.
Things You'll Need
Waffle iron

2 cups pancake mix

2 eggs

1 1/4 cups milk

1/4 cup oil