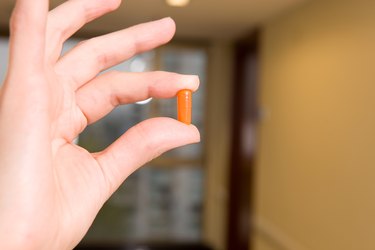 Choosing the right vitamin and mineral supplements can be a daunting task — after all, there are more than 90,000 products on the market, according to a March 2018 report in JAMA Network.
And while a time-release formula may sound effective, this type of supplement may not provide the long-lasting benefits it claims to offer.
How Time-Release Products Work
Time-release supplements are designed to slowly release the vitamins or minerals into the system over an extended period of time — usually between five to eight hours, depending on the product.
Time-release products may also be labeled as:
Extended-release
Slow-release
Delayed-release
Sustained-release
The technology behind time-release supplements involves the use of active ingredients that are not dissolved upon digestion like the ones used in immediate-release formulas, Angie Kuhn, RDN, director of research and nutrition at Persona Nutrition, tells LIVESTRONG.com.
"Plus, these products may also be combined with other ingredients that form a gel-like material and a hard outer coating once the supplement is taken in order to prevent it from dissolving into the system too quickly," she adds.
Are Time-Release Supplements Safe and Beneficial?
Well, it depends. First of all, not all vitamins and minerals are available in time-release form, Kuhn explains.
"In fact, there are nutrients that you would not want to be time-released into the body because they can be harmful," she states. "For example, supplements containing time-release niacin tend to cause fewer side effects than regular niacin supplements, but they're also associated with liver damage."
And while the research is limited, some of the findings regarding time-released products come with pros and cons.
Time-release pills and capsules are likely to come with some advantages such as dosing convenience and decreased fluctuations in blood levels, according to an August 2015 study published in The Journal of Clinical Psychiatry.
However, these types of formulas may not be completely absorbed within the gastrointestinal system, which could lead to serious complications among those who have been diagnosed with certain digestive disorders, including gastroenteritis or irritable bowel syndrome (IBS).
Another study discovered that the volunteers who took either a time-release caffeine supplement or a regular caffeine supplement showed similar reactions, per the May 2015 edition of the Journal of Sports Science & Medicine. It should be noted that only 10 men, who had an average age of 26 and consumed caffeine on a regular basis, participated in this trial.
And yet, there is some evidence that points to a positive response from taking a time-release melatonin supplement, according to findings published in a June 2016 edition of the journal Sleep Medicine Research. Medical investigators from Korea observed a "high satisfaction rate" among adults with insomnia who took a prolonged-release capsule that contained melatonin, a hormone that helps regulate the sleep-wake cycle.
The Bottom Line
The main difference between time-release supplements and traditional supplements is the length of time it takes for the vitamins and minerals to be absorbed into the body.
"But generally speaking, time-release vitamins are no more effective than regular vitamins — and they tend to cost more money, too," Kuhn says.