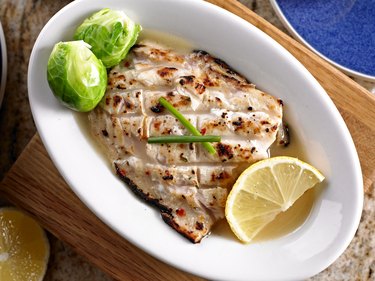 If you like the way swordfish steaks taste, try this pan-fried swordfish recipe when you get a chance. Depending on how much time you have, you can soak the swordfish in a marinade to give it more flavor. But first, here's what you need to know about swordfish.
Swordfish Nutrition Information and Concerns
Swordfish are compatible with a high-protein, low-carb or no-carb diet plan. According to the USDA, a 3-ounce serving of swordfish provides 122 calories, 16.7 grams of protein, 5.65 grams of fat and zero grams of carbs. In terms of vitamins and minerals, swordfish also offers phosphorus, potassium, selenium and vitamins A, B and D. In fact, a serving of swordfish provides more than two-thirds of your daily vitamin D requirement.
However, swordfish may not always be safe to consume. The U.S. Food and Drug Administration (FDA) cautions pregnant women and breastfeeding mothers against eating swordfish since it is among the category of fish with the highest mercury levels. The FDA advises women who may become pregnant to avoid swordfish as well.
Pan-Fried Swordfish Recipe
The FDACS lists a recipe for pan-fried swordfish that is easy to follow. The recipe suggests serving the swordfish with an arugula salad and some peach salsa.
Here's what you need to do:
Soak the swordfish in a marinade (optional): You can soak the swordfish in a marinade of your choice; per the FDACS, even your favorite salad dressing can double up as a marinade. If you're short on time or prefer to keep the swordfish steak's taste simple, just sprinkle some salt and pepper over the fish instead.
Make the peach salsa: Combine diced peaches, diced red onions, lemon juice, cilantro and olive oil in a small mixing bowl. Stir the ingredients together and add salt and pepper to taste. Let the salsa chill in the refrigerator until you're ready to serve the meal.
Pan-fry the swordfish: Add a teaspoon of olive oil to a large pan and warm it up over medium heat. Carefully place the swordfish steaks on the pan and cook them for about three minutes on each side or until the meat is cooked through. The FDACS notes that fish cooks quickly, so don't let it get overcooked. Once done, take the swordfish off the pan and place it on a paper towel to let it drain.
Make the arugula salad: Toss some arugula leaves in a large bowl with a little bit of olive oil, salt and pepper.
Serve the meal: Put some of the arugula salad on each plate. Place a swordfish steak on top of the arugula. Top the fish with some of the peach salsa. Serve the meal immediately.