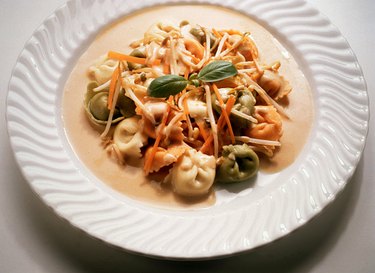 Canned soups are generally economical, and they can add richness to otherwise bland dishes. Cream soups are especially versatile because of their flavors and consistency. By mixing a can of undiluted cream soup with a few other ingredients, you'll make a quick yet rich sauce that pairs well with poultry, fish, pasta and other dishes for a satisfying meal. Although cream soups may not be particularly low in fat, they do add flavor to the occasional comfort meal.
Step 1
Saute half of a chopped onion, a minced clove of garlic or a minced green pepper in a frying pan with a tablespoon of butter to create a flavorful base for the sauce.
Step 2
Open the can of cream soup and pour it into the pan.
Step 3
Whisk in 1/4 to 1/2 cup of milk, depending on the consistency you prefer. If you want a thinner sauce, add more milk. Mix the milk and soup together with a whisk until the sauce is smooth.
Step 4
Pour in 1 tbsp. of cooking wine to enhance the flavor, if you wish. If you prefer not to cook with alcohol, stir in 1 tbsp. of chicken broth. Allow the sauce to simmer until heated through.
Step 5
Pour the sauce over the food of your choice. Reserve some as a gravy or for dipping.
Things You'll Need
Onion, garlic or green pepper

Butter

Canned, condensed cream soup

Milk

Cooking wine or chicken broth

Frying pan

Whisk
Tip
You may choose any flavor of condensed soup that you like. Cream of mushroom and cream of celery are both mild enough to blend with other ingredients but still have the creamy texture and smoky flavor that enhances a sauce.