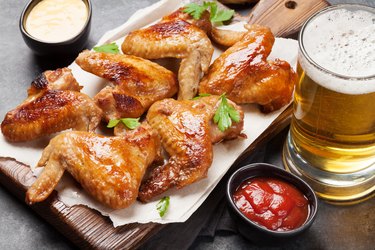 Buffalo Wild Wings is a typical wing restaurant that offers chicken wings in a variety of flavors, in addition to side orders such as fries, potato wedges and fried mozzarella sticks. One glance at the Buffalo Wild Wings Nutrition Guide will show that healthy options are few, but do exist.
There isn't one "healthiest thing" at Buffalo Wild Wings, but you can put together a meal using healthier options by avoiding fried foods or dishes that include cheese or other high-fat ingredients.
Keep an Eye on Appetizers
Appetizers can ruin your meal before your entree even arrives, because many of them contain too many calories and too much fat. Many appetizers at Buffalo Wild Wings fall in the unhealthy category, including the Ultimate Nachos with 2,060 calories and 106 grams of fat, and the Chili con Queso with Chips with 1,180 calories and 62 grams of fat.
Much of the fat in these appetizers is saturated — the type of fat that can contribute to heart disease, according to Mayo Clinic. No more than 10 percent of your daily calories should come from saturated fat.
For a 2,000-calorie-per-day diet, that's a maximum of 20 grams of saturated fat. The Ultimate Nachos have 49 grams — more than twice the recommended amount.
Many appetizers are also high in sodium. In fact, the Big Twist Pretzel with Hatch Queso has 3,780 milligrams — more than the maximum of 2,300 milligrams per day recommended by the American Heart Association.
Buffalo Wild Wings Salads
Don't assume that Buffalo Wild Wings salads are automatically a healthy choice. But they do offer some benefits. According to the Mayo Clinic, vegetables are low in calories but high in volume, which helps you to feel fuller. They also contain fiber, which can help you feel more satisfied.
While vegetables in a salad are low in calories, it is important to pay close attention to the toppers and dressings. They can add an unhealthy amount of fat and calories.
A garden salad with white wine vinaigrette provides 600 calories and 37 grams of fat. Add grilled or blackened chicken for a good source of protein and only 90 additional calories. Skip the crispy chicken through — this choice adds a whopping 440 calories and 22 grams of fat to your salad.
To save even more calories and fat, choose salad dressings such as fat-free ranch, at 50 calories per serving, or light Caesar dressing at 160 calories and 14 grams of fat. Avoid the dressings with the highest calories and fat, such as the Southwestern ranch dressing, which clocks in at 340 calories and 37 grams of fat.
Consider Your Protein Source
Each wing at Buffalo Wild Wings contains 72 calories and 4 grams of fat. The Boneless Wings contain 104 calories and 5 grams of fat in each three-piece serving.
Your healthiest meat option is the grilled chicken. While a hamburger patty contains 290 calories, the grilled chicken breast is only 90 calories.
Another healthy option is the Naked Tenders, pieces of grilled chicken with sauce, that contain 53 calories and less than 1 gram of fat per tender.
Don't Overlook the Sides
Among the most popular side orders at Buffalo Wild Wings are the french fries, with 420 calories and 11 grams of fat, and onion rings, 980 calories and 72 grams of fat.
Side items on the menu with the lowest calories include Buffalo Chips or thick-cut potato chips, at 290 calories and 14 grams of fat, carrots and celery with fat-free ranch dressing with 110 calories and 0.5 grams of fat, and slaw with 170 calories and 13 grams of fat.