You may have heard new reports about the dangers of processed foods made with sodium nitrate or with a similar chemical known as sodium nitrite. While some of the claims you have heard may be exaggerated, there is legitimate concern about the negative health effects of both sodium nitrate and sodium nitrite.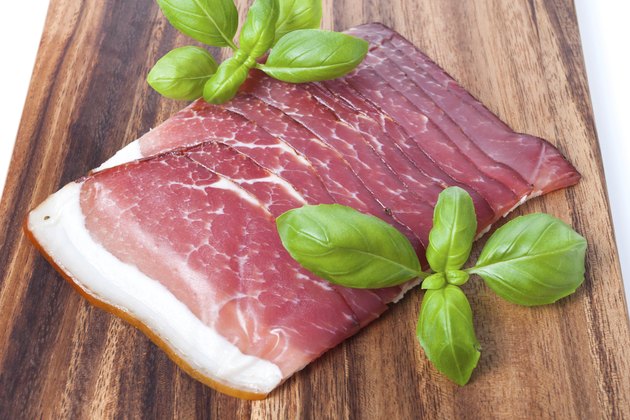 Definition
Sodium nitrate belongs to the class of chemicals known as salts, similar to table salt, or sodium chloride. Sodium nitrate is also sometimes called Chile saltpeter, explains Edinformatics.com. At room temperature, sodium nitrate exists as a solid white substance that easily dissolves in water. Sodium nitrate can be obtained either from mining out of the ground or by chemical synthesis in a laboratory.
Uses
Sodium nitrate is used in a wide variety of substances, including enamels made of pottery or glass, as well as explosives, fertilizers and rocket fuel. Because sodium nitrate possesses potent antimicrobial properties, it is also used as a food preservative, especially in cured meats such as bacon and lunch meats. Using sodium nitrate as a preservative can prevent food poisoning caused by botulism and other types of bacteria. Adding sodium nitrate to meat also helps give cured meats a deep red color.
Concerns
Sodium nitrate has received a great deal of media attention because of possible health concerns. Sodium nitrate has been linked to the development of cancer, according to the February 2013 issue of "Nutrition and Cancer." The risk of diabetes may also increase from consuming sodium nitrate. For these reasons, many experts recommend limiting your intake of cured, processed meats.
Sodium Nitrite
Sodium nitrate, with the chemical formula of NaNO3, is often confused with a similar chemical, sodium nitrite, NaNO2. Sodium nitrate and sodium nitrite share many similar properties, although sodium nitrite is more commonly used as a preservative than is sodium nitrate, explains the University of Minnesota. Meats that take a very long time to cure, such as country ham, are more likely to use sodium nitrate instead of sodium nitrite.