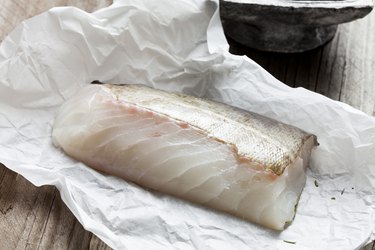 Bluefish, also known as tailor and shad is the only member of the Pomatomidae family. It is found throughout the world but is most common along America's eastern seaboard. It is an oily fish similar in texture to mackerel with a fatty, soft flesh. It is a good source of niacin, magnesium, omega-3 and potassium. Bluefish is characterized by a strong taste and somewhat fishy odor that can be balanced by soaking in milk or being prepared using citrus. It can be grilled, baked, broiled or smoked, but is best prepared as fresh as possible as it does not keep very long or freeze well.
Preparing the Fillets
At first glance, bluefish may not seem like the most appetizing of fish with its blue skin, brown flesh and slightly fishy smell. But once cooked, the flesh turns a delicate silvery white. And its strong taste and odor can be neutralized by first soaking the fillet in milk prior to preparing it for cooking. Rinse the fish and pat dry, then place the fish into a glass baking dish and pour low-fat milk onto it to submerge it. Cover the dish with plastic wrap and place it into the refrigerator for 30 minutes. When ready to use, rinse the fillet with cold water before seasoning.
Deliciously Baked
Bluefish works well baked in the oven but is best cooked covered to insure that the flesh is infused with the cooking liquid and does not dry out. Fillets are enhanced with bright citrus flavors, fresh herbs, dry white wine or vermouth and a variety of vegetables. They can be sealed up in aluminum foil or placed into packets of parchment paper. Cook the fish in a preheated oven at 375 degrees Fahrenheit for 15 minutes until the flesh is opaque. You can also check it when the paper is slightly golden in color.
Boldly Grilled
Bluefish can handle bold and spicy flavors without becoming overwhelmed. Create a rub by mixing together olive oil, lemon zest, Worcestershire sauce, Dijon mustard, smoked paprika and crushed Aleppo peppers. Rub the mixture onto clean fish fillets placed into a baking dish. Let the fish marinate in the refrigerator for one hour. Heat a grill to medium-high heat. Place the fish onto an oiled grill grate or use an oiled fish cage to cook the fillet. Grill the fish for three to five minutes over direct heat until slightly charred. Flip the fish over and allow it to cook three minutes longer.
Roasted in Bacon
The smoky flavor of bacon deliciously enhances bluefish. Fillets can be wrapped in strips of bacon and roasted in the oven until crispy and juicy. Season the bluefish lightly with salt and pepper. Wrap fillets crosswise with bacon strips and tuck a small sprig of fresh thyme between the fish and the bacon. Preheat the oven to 425 F. Place the fish onto a greased baking pan. Cook the fish four minutes on each side until fish is cooked through. Turn the oven to broil for one last minute to crisp the bacon.