Walking is a way to stay active, to increase the muscle strength in your legs and to improve your cardiac health. Pain in your hips or pelvis after extended periods of walking may be a sign of injury or an underlying medical condition. Understanding the possible causes of hip pain will help you pursue the appropriate treatments.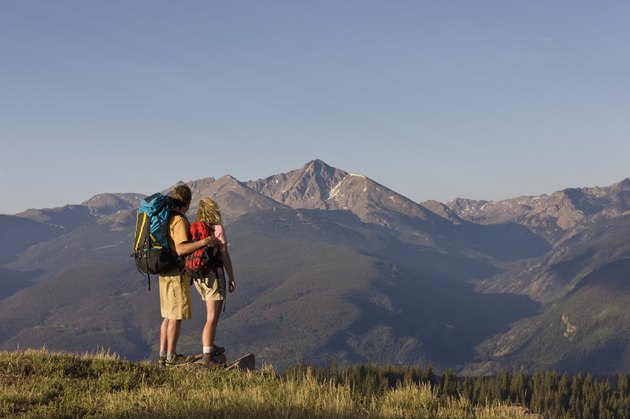 Osteoarthritis
One potential cause of pain in your hips after extended periods of walking may be related to osteoarthritis. According to MedlinePlus, osteoarthritis occurs when the cartilage in a joint breaks down, resulting in inflammation and pain in the affected area. Your hip joints are susceptible to the development of this condition over time, which can be rather debilitating during prolonged periods of hip joint activity.
Muscle Injury
Another possible cause of hip pain during long periods of walking may stem from an injury to the surrounding muscles. According to The Pain Clinic website, walking incorporates numerous lower body muscle groups to assist with your gait via the lifting and lowering of your legs. A muscle strain or tear in any of these groups may cause a considerable amount of pain in your hips. Muscles may also become sore or fatigued after long periods of use.
Bursitis and Tendonitis
Inflammation of the bursea -- or fluid-filled sacs that help lubricate joints -- may also cause pain in your hips after long periods of walking. According to MedlinePlus, repeated friction of an inflammed bursa can lead to bursitis -- a painful condition that can worsen when left untreated. Tendonitis is the inflammation of muscle tendons, and can also cause considerable pain during repeated contractions of the affected muscles in the hip area.
Considerations
If you begin to feel pain in your hips while walking, stop and rest for a few minutes to allow your muscles to calm and for lactic acid levels in your muscles to lower. If pain persists for a prolonged period, this may be a sign of an injury or a medical condition. Speak to your doctor about treatment options.