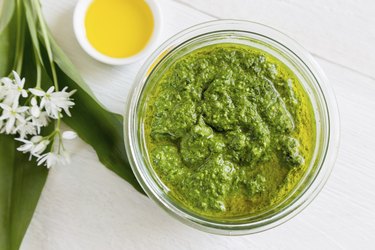 The ingredients in prepared pesto may vary, but most brands contain four main ingredients: basil, olive oil, garlic and pine nuts. It's quite easy to use a jar to make creamy pesto sauce, a condiment that adds wonderful flavor to pastas and other dishes.
Tip
To make a jar of pesto sauce creamy, just add some heavy cream or Parmesan cheese. This simple addition increases your prep time by just seconds.
Creamy Pesto Sauce
Although Gremaud doesn't often make creamy pesto, he shares how to do it. "I make this by either adding heavy cream or working in cheeses like Parmesan during the mixing process. It really helps impart more texture to dishes, while keeping the fresh nature of pesto. Be sure not to heat the cheese or cream too much."
Gremaud enjoys putting his own spin on store-bought pesto. "Depending on the taste of the one you purchase, you can add more olive oil, fresh basil or even cream. It's best to tailor the taste to the dish you're making. Garlic is also a great addition to add another layer of taste."
More About Pesto
What exactly does pesto taste like? "Creamy pesto sauce combines the freshness of ingredients like basil and garlic with the decadence of cream or cheese. To me, it tastes like you're traveling through Europe and are able to have fresh tastes in every single dish. The combination of fresh herbs with cheese is irresistible," says Gremaud.
You can eat pesto straight from the jar, but Gremaud prefers to use it to heighten the flavor of pasta dishes, meats or even fresh bread. "I love to use pesto as a topping for many dishes," he explains. "It's very versatile."
Creamy pesto pasta is the simplest way to use the condiment to make a meal. A variation, creamy pesto cavatappi, contains vegetables such as mushrooms.
If you make pesto from scratch, you can store it in the refrigerator for up to three days, according to the National Center for Home Food Preservation. To save some pesto to use another time, freeze it: Put it in either plastic freezer boxes or glass freezer jars, leaving 1/2 inch of space at the top.
Basic Pesto Sauce Recipe
The classic pesto recipe that follows is adapted from one that's offered by Rutgers University.
2 cups fresh basil leaves
2 cloves garlic, crushed
2 tablespoons pine nuts or walnuts
2 tablespoons Parmesan cheese, cubed or grated
Olive oil
Rinse the fresh basil under cool water. Pat dry and set aside.
Place the pine nuts on a baking sheet in the oven and toast for a minute or so until lightly browned.
Put the basil, garlic, nuts and Parmesan cheese in a food processor. Add olive oil and pulse until the mixture is a well-blended paste.
Other recipes call for larger cheese quantities, such as 1/2 cup. You may also use Romano cheese instead of Parmesan.
If you're feeling creative or just want a change of pace, try our recipes for Vegan Pesto, Kale Pesto and Pesto Hummus, which serve up delicious variations on this well-loved condiment.