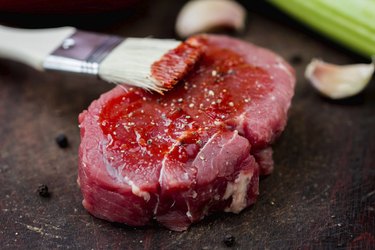 Shell steak is a boneless and elongated cut also called New York strip steak, Kansas City strip steak or simply strip steak. Shell steak usually has about a 1-inch thickness. This steak is cut from the steer's hindquarter or middle section of its back. Shell steak is simple to prepare, requiring little seasoning for excellent flavor to develop when grilling. Grilling a shell steak to perfection also is a quick process.
Step 1
Put your steaks in a shallow glass bowl. Rub them with garlic. Sprinkle them with oil and salt and pepper. Alternately, sprinkle the steaks with a steak seasoning mix and oil.
Step 2
Cover your bowl with plastic wrap. Marinate your steaks at room temperature for one hour.
Step 3
Preheat your grill when steaks have been marinating 45 minutes. Use medium-high heat instead of a high heat because this is a relatively chewy cut of meat, recommends "The BBQ Queen's Big Book of Barbecue," by Karen Adler and Judith M. Fertig.
Step 4
Grill your shell steaks to the desired doneness. Cook about four minutes per side for medium rare. Use a meat thermometer to ensure your steaks reach at least 145 degrees F. to reduce risk for foodborne illness, according to the U.S. Department of Agriculture. Add two or more minutes per side and cook to 160 degrees F. for medium steaks.
Things You'll Need
Two shell steaks, about 1 lb. total

Shallow glass bowl

One to two minced cloves of garlic

Salt

Pepper

Steak seasoning (optional)

1 to 2 tbsp. olive oil

Meat thermometer
Tip
Serve with grilled onions or mushrooms for additional flavor. Keep leftovers in your refrigerator for up to four days.
Warning
Wash your hands with warm soapy water for at least 20 seconds after handling raw meat.