No single food -- or pair of foods -- has the power to add or subtract pounds from your frame. Weight control is all about your overall activity level and the number of calories you eat, not simply whether you include chicken and broccoli in your diet. Eating chicken and broccoli won't automatically make you gain weight, although you can include them as part of a weight gain diet. Conversely, chicken and broccoli won't make you lose weight, but they can support your weight loss efforts as part of a reduced-calorie diet.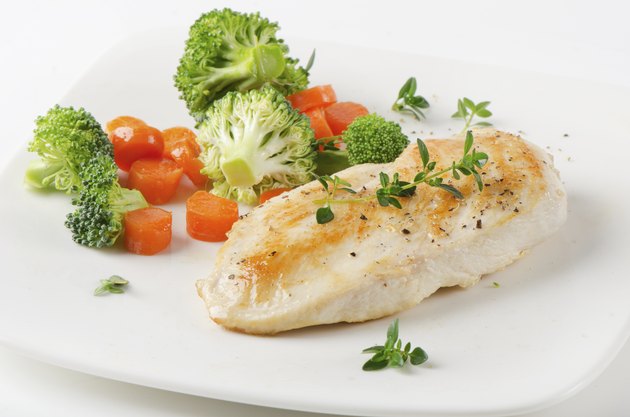 Calories and Weight Control
Your weight is controlled by calories in vs. calories out. If you're eating the same number of calories as you burn, on average, you'll maintain your weight. Eat more than you burn and you'll gain weight; eat less than you burn, and you'll lose weight.
You can include chicken and broccoli in a weight loss or a weight gain diet plan -- but to achieve your goals, you'll need a calorie intake designed to help you meet your goal weight. Generally, you can lose weight at a safe rate by cutting 500 to 1,000 calories from your diet each day, which will result in a 1- to 2-pound loss each week. To gain weight, you should add 250 to 500 calories to your intake daily, which will result in a 0.5- to 1-pound gain weekly.
Exactly how many calories it will take to gain or lose weight depends on several factors, including your current weight, height and activity level. For example, a 35-year-old, 5-foot 10-inch man weighing 175 pounds who is active for about an hour a day, needs about 3,100 calories daily to maintain his weight. If he wants to lose weight, he could eat between 2,100 and 2,600 calories daily to lose 1 to 2 pounds weekly. If he wants to gain weight, he could eat between 3,350 and 3,600 calories and gain 0.5 to 1 pound per week.
Either diet plan could include chicken and broccoli -- it's all about the overall number of calories in his diet that would determine whether he gains or loses weight. An online calculator can estimate your daily calorie needs, and you can add or subtract calories, as needed, for weight gain or loss.
Eating Chicken and Broccoli for Weight Loss
When you're eating chicken and broccoli to lose weight, stick to moderate portion sizes and cooking techniques that don't require added oil. That will help keep the calorie content of your chicken low, so you can more easily stay within the restricted calorie intake you need to lose weight.
For example, a 3-ounce portion of skinless roasted chicken breast contains 142 calories, while a cup of raw broccoli has 31 calories. If you don't add oil or other ingredients when you cook the broccoli, you won't add any calories, so you could enjoy a roasted chicken breast and a serving of steamed broccoli for 173 calories -- that's just 14 percent of the calorie intake on a restrictive 1,200-calorie diet.
Both chicken and broccoli contain nutrients that help you achieve weight loss. Chicken serves as a source of lean protein, which helps you feel satisfied, and combats hunger after your meals. People who eat skinless chicken are less likely to gain weight, according to a study published in the American Journal of Clinical Nutrition in 2015. Broccoli is high in fiber -- it contains 10 percent of the daily value per cup -- which also keeps you feeling full after you eat.
Most sauces you could put on chicken and broccoli add calories, so skip them; instead, season your chicken with freshly cracked pepper and fresh herbs, like rosemary, sage or basil. Sprinkle lemon pepper over your broccoli or add a dash of pink Himalayan sea salt for a burst of flavor.
Eating Chicken and Broccoli for Weight Gain
While a weight loss dieter might choose smaller servings of lower calorie cuts of chicken and eat broccoli plain, you can add more calories to your diet with larger portion sizes and more calorie-rich cooking techniques to help you meet your target calorie surplus.
Enjoy 2 roasted chicken breasts for an entree that contains 282 calories, or fry your chicken breasts -- in a heart-healthy oil like olive oil -- to take in 320 calories. Instead of limiting yourself to a 3.5-ounce serving of skinless, dark chicken meat, eat all the meat on the leg -- you'll get 475 calories. For extra calories, try drizzling your chicken breast with olive oil, which contains 124 calories per tablespoon.
Broccoli itself is low in calories, but you can coat it in olive oil to add heart-healthy fats and calories for weight gain. If you're craving a treat, add calories to your broccoli by topping it with homemade cheese sauce -- a 2-tablespoon serving adds 59 calories. If you coat a cup of broccoli with a tablespoon of olive oil and then top it with cheese sauce, your side dish will contain 214 calories.
Including high-quality protein, such as chicken in your diet, is beneficial when you're trying to gain weight. As a source of complete protein, chicken offers all the amino acids you need to build muscle tissue. Combine that with a well-designed training program, and you'll add lean muscle to your frame -- not only fat.
Avoid boredom on your weight gain diet by experimenting with infused olive oils for extra flavor. Use lemon, basil or garlic-flavored olive oils, or make your own spicy olive oil by adding red chili pepper and allowing the oil to infuse in an airtight container, overnight.
Working Out for Your Weight Goals
It's not just your diet -- or how you serve chicken and broccoli that affects your weight -- it's how much you exercise, too. If you're looking to lose weight, for example, your workout plan should put a heavy emphasis on aerobic workouts, which burn a lot of calories and fat. Your strength training workouts should involve compound movements -- exercises that work several muscles at once -- to maximize the calorie you burn as you tone your body.
If you want to gain weight, you'll likely spend less time on aerobic workouts -- enough to promote heart health, but not so much that you'll start losing weight. Gaining muscle weight may also require a heavier emphasis on strength training workouts, combining compound movements with smaller, isolated exercises designed to fatigue specific muscles.
How much cardio and strength training you need -- as well as the type of exercises you should perform -- will vary, depending on your current physique and your ultimate goals. A fitness professional can help you develop a routine that will help you lose or gain weight to get the body you want.