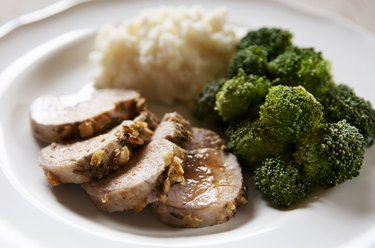 Pork tenderloin comes from the inside of a hog loin, which is the tissue along the top of the rib cage. It is one of the tenderest cuts of pork. The tenderloin's mild flavor lends itself to a variety of seasoning options, whether the seasoning comes in the form of a spice rub, marinate or flavorful sauce. Roasting is an easy and fairly quick way to prepare pork tenderloin, which usually weighs between 3/4 lb. and 1-1/2 lbs. Another advantage of roasting is that it allows fat to drip away from the meat while it cooks.
Step 1
Trim any fat from the pork tenderloin. Mix together 1/2 tsp. each dried oregano, thyme, coriander, cumin and curry powder in a small bowl. Add 1/4 tsp. salt to the spice mixture.
Step 2
Moisten the tenderloin and rub in the spices. Place the tenderloin in a shallow dish and refrigerate for up to eight hours.
Step 3
Heat oven to 450 degrees Fahrenheit. Place the pork on a rack inside the roaster. Roast the tenderloin for about 20 minutes or until it reaches an internal temperature of 155 degrees.
Step 4
Take the pork from the oven and loosely cover it with aluminum foil. Allow it to rest for five minutes so juices can set.
Step 5
Slice the pork tenderloin, garnish with parsley and serve. Makes about four servings.
Things You'll Need
1 lb. pork tenderloin

Knife

1/2 tsp. oregano

1/2 tsp. thyme

1/2 tsp. coriander

1/2 tsp. cumin

1/2 tsp. curry powder

1/4 tsp. salt

Small bowl

Shallow dish

Roaster

Aluminum foil

Chopped parsley
Tip
Do not cover the tenderloin while roasting. Put the tenderloin in the oven for roasting after the oven is fully preheated. This will help ensure a crisp outer surface. Avoid overcooking tenderloin or it will become dry.