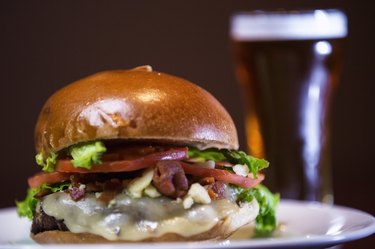 Bacon is a pork product use to enhance the flavor of various foods, including hamburgers, according to world renowned chef Bobby Flay. The salt and fat from the bacon can also keep your hamburger well seasoned and moist throughout the cooking process. Bacon is a "cured" pork product that has been heavily salted; however, it must be cooked thoroughly and should not be consumed raw. This makes it tricky to cook bacon within hamburgers.
Cook Bacon
Step 1
Place 12-inch frying pan on stove. Turn the heat on the stove to medium-low.
Step 2
Place four pieces of bacon in the frying pan. Turn bacon over after two minutes. Sometimes, depending on your stove, the pan and the type of bacon, you may need to eye is to determine whether or not the bacon is ready. Flip bacon every two minutes until it turns a dark red.
Step 3
Place finished bacon on paper towels to blot out some of the grease and fat. Wait until bacon has cooled. This usually takes 15 to 20 minutes. Repeat until you have enough bacon for your burgers.
Step 4
Crumble bacon between your hands and onto the paper towels. This produces the bits for your burgers.
Add Bacon To Burgers
Step 1
Place 1.5 lbs. of 80-percent lean ground beef into mixing bowl. Add crumbled bacon to the mixture.
Step 2
Mix in 1 tsp. salt, 3 tsp. black pepper, .5 tbsp. onion powder and .5 tbsp. garlic powder until all ingredients have been incorporated into the meat mixture.
Step 3
Pull out some of the meat mixture and form 1-inch thick, 3-inch diameter patties. You should be able to make at least four to six patties.
Step 4
Turn heat on stove to med-high. Place 1 tbsp. of butter onto the skillet.
Step 5
Place four patties onto the skillet when the butter begins to bubble. This will ensure that you get a nice sear on your burger patties. Flip burgers with spatula after two minutes, and continue to do so until they are done.
Things You'll Need
Bacon

1 1/2 lb. ground beef

12-inch frying pan

Flat cooking skillet

Paper towels

1 tsp. salt

1 tsp. black pepper

1 1/2 tbsp. onion powder

1 1/2 tbsp. garlic powder

1 tbsp. butter

Spatula
Tip
You may need to rotate your skillet as you cook the burgers to ensure they are cooked evenly. Some skillets do not hold heat evenly in all areas.
Warning
Undercooking your burgers increases your risk of a getting food-borne illness. Make sure meat is cooked thoroughly before consuming.