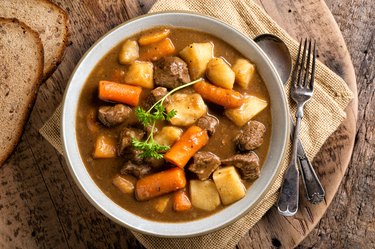 Brown gravy beef stew is a rich, hearty dish that's ideal for cooler temperatures. To make it, big chunks of beef simmer in thick gravy with plenty of vegetables — resulting in a satisfying, one-bowl meal.
And best of all: Beef stew tastes even more delicious the next day. "Any stew leftovers will intensify their flavor in the refrigerator," Michele Sidorenkov, RDN and trained chef, tells LIVESTRONG.com.
Get instructions for how to make a delicious beef stew recipe on the stovetop or in a slow cooker, along with tips that'll ensure your dish is tender, flavorful and melt-in-your-mouth delicious.
How to Make Beef Stew on the Stovetop
Sharp knife
Paper towels
Oil
Beef
Onion
Butter
Flour
Mixed vegetables, such as carrots, potatoes and celery
Beef stock
Meat thermometer
Trim excess fat from the beef and chop it into 1-inch square cubes. Larger cubes may not cook all the way through, increasing the risk of foodborne illness.
Drizzle some oil into a large pot on medium heat. Warm the oil until it shimmers and brown the meat a few pieces at a time in the hot oil. Avoid crowding the pan or else the beef will just steam and not develop a crisp exterior. Drain the beef cubes on a paper towel to remove excess oil. Browning the beef is how you build deep, meaty flavor for your stew, says Sidorenkov.
Chop a small onion and add it to the pan, stirring to coat each piece with oil. Reduce the heat to medium-low and cook the onion for 3 to 5 minutes, or until golden brown.

Add a spoonful of butter to the browned onions and allow it to melt. You can also add another tablespoon of olive oil. Sprinkle an equal amount of flour over the melted butter and whisk to form a thin paste, known as a roux. Whisk the roux constantly for a few minutes, until it turns light brown.

Pour a small amount of beef stock into the pan and whisk vigorously to thin out the roux. Once the mixture begins to bubble, pour the remainder of the beef stock into the pan. Bring the liquid to a full boil and allow it to cook until it's thick enough to coat the back of a clean spoon. It takes about 2 tablespoons of roux to thicken each cup of liquid.

Toss the meat cubes and a few mixed vegetables into the gravy and cook over medium heat for 45 minutes. Add the vegetables that take the longest to cook, such as potatoes, to the pot first, staggering the addition of the remaining vegetables to prevent overcooking.
Pull a cube from the stew after 45 minutes and insert a meat thermometer into the center to test for doneness; if it registers at least 145 degrees Fahrenheit, your stew is ready to serve. If the meat is not done, cook for an additional 15 minutes.
Tips
Both tender beef cuts (such as the loin and rib) and tougher ones (such as chuck and shank) work in a stew, says Sidorenkov. For tougher cuts, plan to cook the dish longer so the connective tissue can break down, she says.
Watch the roux carefully as it cooks. If you leave it on too long or stop whisking, it will burn and impart a bitter flavor to the stew.
Try frozen veggies. Not only will you skip the prep work, but since they're cooked before freezing, they'll reduce cooking time as well, says Sidorenkov. Since the chill from frozen veggies will drop the overall temperature of your dish, Sidorenkov recommends adding them before bringing your stew to a simmer.
For a more filling meal, pick starchy vegetables. "Starchy vegetables help make your stew feel more like a meal, which is more satisfying," says Sidorenkov. Along with potatoes and carrots, consider peas, corn and parsnips.
How to Make Slow Cooker Beef Stew
Knife
Beef
Onion
Vegetables, such as carrots, potatoes, peas and celery
Flour
Oil
Beef stock
Instant brown gravy mix
Meat thermometer
Cube the beef, and chop potatoes, carrots and a small onion into similar-sized chunks, then place the vegetables directly into the slow cooker. Dense vegetables require longer cooking times and should go in first; save softer vegetables for later in the cooking process.
Dust the beef cubes with plain white flour and brown them in a pan with a small amount of oil. The flour helps thicken the gravy in the finished stew. Transfer the browned beef to the slow cooker and deglaze the bottom of the pan with a cup of beef stock, gently scraping the bottom of the pan to loosen any remaining bits of beef. Add the deglazing liquid to the slow cooker.
Pour enough beef stock into the Crock-Pot to just cover the meat and vegetables and whisk in two packets of instant brown gravy mix. This powdery substance is normally mixed with cold water in a pot and thickens when it comes to a boil, but it will thicken slowly as the stock heats up in the slow cooker.
Cook covered on high heat for 6 hours. Then, remove the lid and add in additional vegetables, such as peas or celery. (These softer vegetables will break down if added too soon.) Cook for one more hour and check the meat for doneness before serving.
How to Add Flavor to Beef Stew
Sometimes a stew can have a heavy, flat flavor, says Sidorenkov. "Incorporating acids and fresh herbs help a stew come alive by building more complex and multidimensional flavor," she says. Here are some of her favorite ways to brighten up a stew:
Deglaze the pan with red wine
Add fresh herbs, such as thyme or parsley
Finish the stew with a splash of sherry vinegar
Add tomato paste as the stew broth simmers
Once your stew is done, you can dish it into a bowl and enjoy it on its own or serve it over rice, barley or pearled couscous.