Silverside, sometimes called bottom round, is the large and inexpensive cut of meat taken from the upper portion of a cow's hind leg. Silverside is one of the leaner cuts of beef and is best cooked with low heat for a long time to tenderize the touch muscle.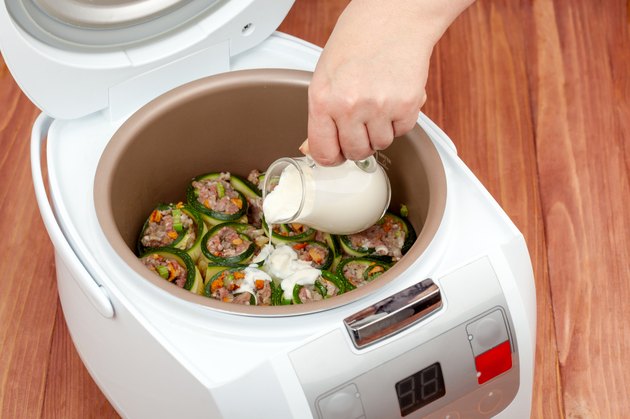 The meat is most commonly prepared as a pot roast in a slow cooker. A 3-ounce serving contains about 159 calories, 23 grams of protein and 6.6 grams of fat. When shopping for silverside, choose cuts marked "select" or "choice," as they are usually lower in fat.
Step 1
Pat dry your silverside roast with a paper towel. Sprinkle on all sides with the seasoning of your choice. Onion, sage, thyme, bay leaf, nutmeg and marjoram all go well with beef.
Step 2
Heat a large pan on your stove on high. Add olive oil and sear the meat on all sides over medium-high heat.
Step 3
Place the seared silverside into your slow cooker and top with sliced vegetables, such as carrots, onion, celery or potatoes. Add enough water, wine or low-fat beef broth to nearly cover the roast.
Step 4
Cook the meat for six hours on high or 10 hours on low.
Step 5
Transfer the meat and vegetables from the slow cooker to a serving platter. Whisk cornstarch or flour into a few spoons of cold water. Stir the mixture into the liquid in the slow cooker to make gravy.
Things You'll Need
Silverside beef

Paper towel

Seasoning

Large pan

Olive oil

Slow cooker

Sliced vegetables

Liquid

Serving platter

Flour or cornstarch

Whisk
Tip
To make your silverside beef healthier, cool the meat and gravy in the refrigerator overnight. Scoop off the hardened fat the next day before reheating and serving. Longer cooking times at a lower temperature will make the meat more tender, so cook on low if possible.