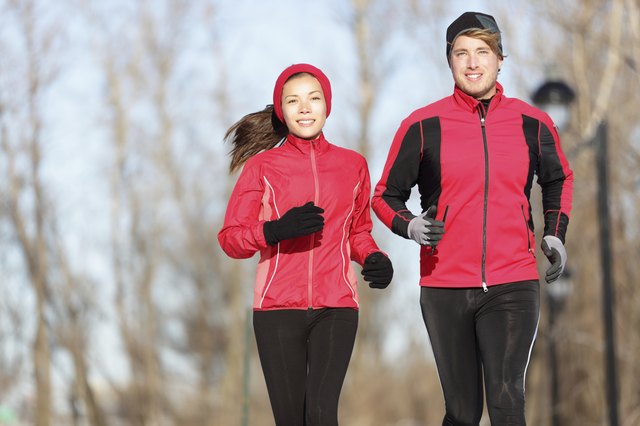 Muscular legs connote strength and fitness, and are on the exercise shopping list of many people. If your muscular legs make you uncomfortable, though, you might be eager to get rid of them. Running challenges your leg muscles, and can even cause your legs to bulk up more, but the right running routine can also help you slim down.
The Benefits of Large Muscles
Before you embark on a plan to slim down your muscles, ask yourself why you want to do so. Muscular legs offer many benefits. You'll burn more fat if you have more muscle, and strong legs can make virtually every workout -- from weightlifting to cardiovascular exercise -- easier. Strong, healthy muscles also reduce your risk of osteoporosis and osteoarthritis.
Burning Flab and Slimming Legs
Running is a form of cardiovascular activity, which means it burns calories and melts away fat. If you have fat on your legs in addition to muscle, your legs will look smaller if you run regularly. This is because the fat will melt away, making your legs less bulky. Of course, you won't lose weight if you eat more calories than you burn or if you don't exercise regularly.
The Right Type of Running
Distance running is the best running style for slimming down bulky legs because it builds lean, rather than bulky, muscles. You'll need to run at least three miles to be running distances. Try starting with short distances, and gradually build up to longer distances over several weeks. Aim for at least three long runs each week. If you can't master distance running, try varying your running routine each day, and steer clear of resistance exercise. Hill running, for example, can build bulky muscles because of the resistance, and short sprints also tend to increase the bulk in your legs.
Waiting for Results
The amount of time it takes to see results depends on your current fitness level, how frequently you work out, what exercise routines you do in addition to running and the intensity of your runs. It can take several months before you notice a change in your legs. Your body shape can also slow things down; if you're naturally muscular, you might not notice much of a change at all.