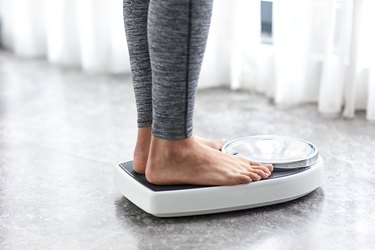 When you're struggling to add weight to your thin frame, you may worry about the dangers of exercising while underweight. Fortunately, physical activity may help you gain weight and improve your health. However, before starting any workout plan, consult with your primary care provider for guidance.
Tip
Whether it's dangerous to work out when you're underweight depends on many factors, including the underlying cause of your weight struggles and your overall health. In some cases physical activity may benefit your weight struggles and your wellness. You and your primary care provider should discuss your unique situation and decide what's best for you.
Are You Underweight?
Though not as prevalent, being underweight is also a risk factor for health problems such as infertility, malnutrition, depression and osteoporosis. Your thinness may weaken your body's immune system, making you more susceptible to infections. It may also be the reason you always feel tired.
Doctors use your body mass index (BMI) to assess weight and health risk. You can use the Centers for Disease Control and Prevention (CDC) adult BMI calculator to see if you're underweight. A BMI of 18.5 or less indicates that you're underweight.
For the record, the BMI is only one tool health care providers use to assess health and wellness, whether you're underweight or overweight.
Exercise Guidelines for Underweight
If you're trying to prevent further weight loss, you may worry about the dangers of exercising while underweight. Your primary care provider can help you determine if physical activity is safe for you based on your personal health needs. Exercise may not be recommended if your weight struggles are related to an eating disorder, according to the U.S. Department of Health and Human Services.
However, adding physical activity to your daily routine offers many benefits, from improving muscle strength and balance to boosting energy and mood to increasing your appetite. Your exercise guidelines for underweight may include a combination of strength training, stretching exercises and low intensity aerobic activity.
The American Academy of Family Physicians (AAFP) suggests refraining from high-intensity aerobic activity when you're underweight. This type of exercise may burn too many calories, making it harder for you to maintain or gain weight. AAFP recommends that you focus on strength-training activities such as lifting weights and yoga to help you add more muscle and bulk up.
Eating to Gain Weight
Though physical activity may be an important part of your underweight treatment plan, your diet may be more important. To prevent further weight loss and promote healthy weight gain, you need to eat a diet that provides an adequate supply of calories and essential nutrients.
Though pizza, milkshakes and french fries are high-calorie food items, they may not supply your body with the nutrients it needs to make healthy gains. To gain weight and promote health, you need to eat a healthy and balanced diet that includes fare from all food groups, including fruits, vegetables, whole grains, proteins, dairy and healthy fats.
Healthy, high-calorie options include:
Nuts, seeds and nut butters
Avocados
Dried fruit
Starchy vegetables
Cheese
Dried milk powder
Eggs and fatty fish
Beans, lentils and peas
Vegetable oils
If you have a poor appetite, the Academy of Nutrition and Dietetics suggests you try eating smaller, more frequent meals. Drinking before or after you eat, instead of with your meal, may also improve your appetite at meal times.