Gaining weight can be just as difficult as losing weight for many people. When you're attempting to put on extra pounds, it is not always as simple as eating whatever you like. Making smart choices about foods to consume and knowing which to avoid will help ensure that you are keeping your body healthy and energized. Following a diet with calories and nutrients from lean proteins, fruits, vegetables, whole grains and dairy, while continuing to be physically fit, will help you feel confident about your weight gain.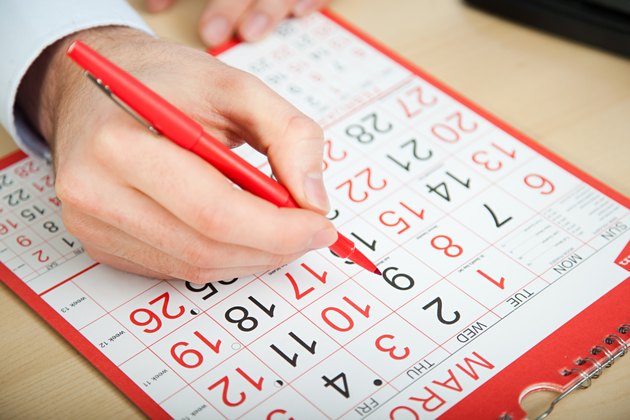 Calorie Math to Gain 2 Pounds Per Week
Putting on 1 to 2 pounds per week helps ensure you gain weight in a healthy manner. For weight gain, you will need to consume an additional 500 to 1,000 calories each day. This must be balanced with the amount of physical activity you are engaged in. The increased caloric load can be dispersed throughout the day into a series of smaller meals. According to an article in the September/October 2005 issue of American College of Sports Medicine Health and Fitness Journal, consistently eating larger meals and snacks is key to gaining weight. Adding an extra 200- to 300-calorie snack a few times each day and consuming an additional 100 to 200 calories at each meal can help make healthy weight gain achievable.
What to Include in the Diet
One of the most important things to remember when trying to gain weight in a healthy way is to eat the right foods. Follow a well-balanced diet full of fruits and vegetables, whole grains, healthy fats, lean proteins, beans and dairy.
For breakfast, make your oatmeal with milk instead of water and add calcium-rich cheese to your eggs. Adding a piece of fruit at breakfast provides extra fiber. When increasing food consumption, adequate fiber intake -- 25 grams for women and 38 grams for men -- ensures your digestive system remains healthy.
For lunch and dinner, the Academy of Nutrition and Dietetics suggests adding healthy fat garnishes to your salads or pasta dishes, such as nuts, seeds, olives, or avocado. Fats provide more calories to your diet than carbohydrates and protein, so a small increase in healthy fats could mean a big calorie boost. For example, 1/4 cup of walnuts can add 165 calories to a dish, while a fourth of an avocado provides an additional 50 calories for a smoothie. One-quarter cup of powdered milk added to soups, smoothies and casseroles can help bulk up nutrition with 109 extra calories and 11 grams of protein. For snacking, a 2-tablespoon serving of nut butter on your daily apple or banana increases your protein while giving you 190 calories.
Meal Plan Ideas
A sample 2,750-calorie meal plan might look like this: For breakfast, you have a smoothie made with one banana, 2 tablespoons of almond butter, 1/4 cup of powdered milk, 1 cup of plain 2-percent Greek yogurt, 2 tablespoons of honey and 1 cup of reduced fat milk for 750 calories. As a midmorning snack, eat a cheese stick and five whole wheat crackers plus 1 cup of strawberries for 215 calories.
Lunch might be a salad made with 4 ounces of boneless, skinless chicken breast, 2 cups of lettuce, 2 tablespoons of olive oil, 1 tablespoon of balsamic vinegar, 1/4 cup of walnuts, a fourth of an avocado, 2 ounces of feta cheese and 1/4 cup of tomatoes for 840 calories. In midafternoon, have a snack of 2 tablespoons of hummus, 1 cup of carrots and one medium orange for 160 calories.
At dinner, serve 4 ounces of baked halibut; 1/2 cup of whole-wheat pasta with 1 tablespoon of olive oil, salt and pepper; 1 cup of steamed broccoli with 1 tablespoon of butter; one whole-wheat dinner roll; and 1/2 cup of blueberries for 730 calories. You can still enjoy an occasional dessert on a healthy diet. Make your evening snack a small apple for 55 calories.
Foods to Avoid When Trying to Gain Weight
Just as there are many recommendations on what to eat when gaining weight, there are foods that should be avoided. Foods high in sugar, such as pastries and candy, will provide calories but do not offer nutrients needed when gaining weight and should be eaten sparingly. Also, foods high in sodium, such as processed meats, canned soups and microwave meals, should be limited as they are unhealthy for any type of diet. They can also cause fluid retention and bloating, making it undesirable to eat.
Avoid packaged foods that are sugar-free and fat-free, as they are highly processed and should never be included in a healthy diet. Drink liquids in between meals and not with them; fluids can fill up your stomach and make you eat less.
When to Consult a Health Professional
If gaining weight while maintaining a healthy diet does not seem to be working for you, speak with a health professional. Your doctor can evaluate any medications you may be taking and ensure they are not interfering with your weight-gain goals. You may also be referred to a registered dietitian who can examine your diet, show you what you are doing well and make suggestions for change.