Because more than one-third of Americans are classified as overweight or obese, a lot of public focus centers on the health consequences of carrying excess weight. What's discussed less frequently are the health risks associated with a low body mass index, or BMI. When you have a low BMI, you are at least somewhat underweight, although limitations apply to the measurement.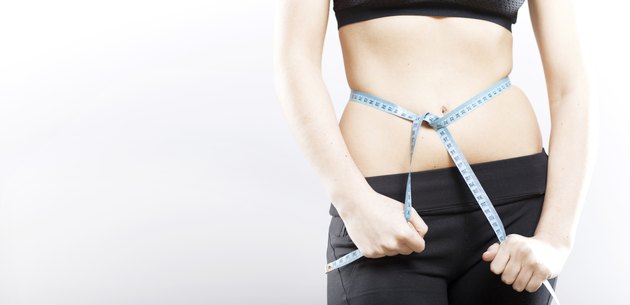 About the BMI Value
BMI, or body mass index, is a number used by health professionals to determine if you're at an appropriate weight for your height. It also gives a general idea of your level of body fat. BMI is calculated from a formula that takes your weight and height into consideration.
For adults over age 20, the equation is: BMI = weight in pounds / (height in inches x height in inches) x 703.
The ranges for BMI are: underweight, normal/healthy weight, overweight and obese. A BMI below 18.5 is considered low and puts you in the underweight category. A BMI in the range of 18.5 to 24.9 is considered healthy, while a value of 25 and up means you're probably carrying extra weight.
Disease-Related Health Risks of a Low BMI
Being underweight is connected to possible nutrient deficiencies in two ways. First, it's likely that those who are underweight are not taking in enough nutrients through their diets. Second, being underweight can decrease the body's ability to absorb essential nutrients, such as amino acids, vitamins, and minerals. Improper absorption of vitamin D and calcium can increase the risk of developing osteoporosis, while abnormal iron absorption can lead to iron-deficiency anemia. Not getting enough nutrients can also lead to hair loss and muscle wasting.
People who are underweight are more likely to get sick and develop infections than people of a healthy weight, according to registered dietitian Elena Blanco-Schumacher in an article in Today's Dietitian in 2008. This is because being underweight is often associated with a compromised immune system.
According to a study published in The New England Journal of Medicine, a lower BMI may also increase the risk of developing respiratory problems, like lung disease. The study looked at BMIs in Korean men and women and found that the risk of death from respiratory diseases is higher in those with low BMIs.
Increased Risk of Miscarriage With a Low BMI
Women who have a low body mass index before they become pregnant are 72 percent more likely to experience a miscarriage in their first three months of pregnancy, according to a study published in BJOG: An International Journal of Obstetrics and Gynaecology. The study went on to say that this increased risk is probably due to malnutrition that can occur from being underweight. Women who took nutritional supplements – specifically folic acid, iron, and multivitamins -- reduced their risk of miscarriage by about 50 percent.
Limitations of BMI
BMI is just one test used to estimate body fatness. While it is accepted as an accurate measurement by many health professionals, it doesn't always tell the whole story. Two people with the same BMI can have different levels of body fat, and people who are very muscular can have higher than average BMIs. If your BMI is low enough to increase your risk for serious health consequences, speak with your doctor or a qualified nutritional professional about healthy ways to gain weight.