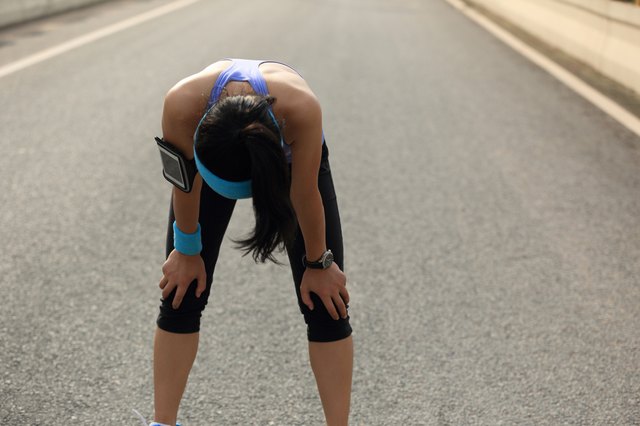 Feeling nauseous or vomiting after a workout is not a normal reaction to exercise. It could be the result of serious exercise problems including overexertion, dehydration or poor eating before your workout. Since nausea can stop you from exercising, it's best to find out what is causing your post-workout vomiting in order to learn how to prevent the condition so you can continue to achieve your daily fitness goals.
Symptoms
Along with vomiting at the end of a workout, you may experiences other symptoms as a precursor to nausea. You may also experience faintness or dizziness, both which can contribute to your nausea. The symptoms may manifest at the end of a long and particularly grueling workout. If you've eaten a heavy meal before your workout, you may begin to feel nauseous as soon as you start exercising, a clear sign that your reaction is food-induced.
Causes
The nauseousness you feel after a workout may be the result of several conditions. Eating the wrong type of meal can make you feel sick during and after a workout. A study published in a 2001 issue of "Appetite" found that subjects that fasted before exercise and subjects that ate a meal before exercise both reported feeling nauseous after a workout. The vomiting and nauseousness can also be caused by dehydration and overexertion. When you push your body too hard without first warming up to the intensity, the exertion can make you feel sick, especially when combined with a lack of hydration.
Treatment
If your begin to feel sick while exercising, reduce your intensity slowly. Stopping exercise suddenly can worsen your symptoms. Instead, slow to a walk until you feel comfortable stopping altogether. Ensure that you have water handy and take a short break, allowing your pulse to return to a resting rate. If you decide to begin exercising again in the same session, start at the lowest intensity possible until you feel comfortable enough to increase your speed or intensity.
Prevention
The best way to deal with nausea and vomiting after exercise is to prevent it. Since both fasting and full meals can affect how your body reacts to a workout, it's best to have a small and nutritious snack before hitting the gym. An apple with peanut butter, a protein bar or dried fruit and nuts can help power your body without making you feel full or sick. Drink water frequently throughout the workout, at least 7 to 10 oz. for every 10 to 20 minutes of exercise. When attempting a new workout or increasing your intensity, do so slowly and with a competent spotter to acclimate your body to the exercise gradually.