Increasing nutrient absorption, helping you stay regular and improving bowel health are just some of the digestive advantages of oatmeal. Even though oatmeal is indeed beneficial for digestion, it can be equally problematic for some people. Before filling up your bowl, you'll need to be aware of several complications from too much fiber.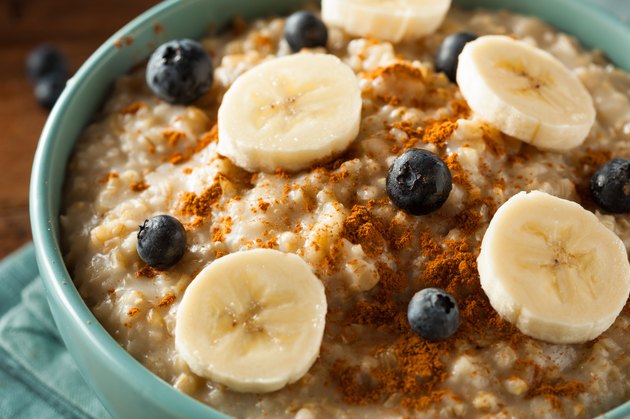 Improving Nutrient Absorption
About half of the fiber in oatmeal is soluble, which means it functions with the help of water. When soluble fiber merges with water, it creates a gel. This material is slow-moving, delaying digestion of food. As a result, vitamins, minerals and other nourishing elements get adequate time to be absorbed through intestinal walls. That slow-moving sludge even delays sugar absorption, keeping your blood glucose at a more stable level.
Keeping Things Moving
The remaining half of the fiber in oatmeal is insoluble fiber. Picture a tiny push broom moving through your bowels, sweeping out every nook and cranny. That's exactly what insoluble fiber does. In addition to improving regularity, it also makes your stools softer, minimizing your need to strain when you use the restroom. Having regular bowel movements may help remove toxins from your body, which could reduce the risk of some cancers.
Running into Digestive Problems
Problems can occur when you have too much fiber from oatmeal. The sudden fiber spike sometimes causes constipation. Diarrhea, abdominal cramping, gas and bloating are other possible complications. You want to meet your fiber recommendation of 14 grams per 1,000 calories, according to the "Dietary Guidelines for Americans 2010," but not significantly exceed it. A 1-cup portion of cooked oatmeal offers 4 grams of fiber. If it bothers you, cut your serving in half and increase it every few days, as tolerated.
Other Details
Fiber needs water to keep the digestive tract moist and lubricated, so it can move everything along with minimal side effects. While the average 1-cup portion of prepared regular oats has close to 7 ounces of water, you'll still want to drink plenty of water throughout the day to keep fiber moving. In addition to benefiting digestion, the slowing effects of soluble fiber in oatmeal can delay sugar absorption, keeping your blood sugar in a normal range. Soluble fiber from oatmeal even binds with bile acids in your gut, helping excess cholesterol go out through waste, ultimately lowering your cholesterol level.