Nothing warms a cold winter morning better than a hot bowl of oatmeal. Unless, of course, you have to wait for it to cook. Rolled oats, which are whole-grain oats that have been steamed and pressed with a roller to flatten them, take about five minutes to cook, while instant oats, which are basically very thinly pressed rolled oats, are ready as soon as you mix in hot water. While the extra pressing does affect the texture of the oatmeal, instant oats are nutritionally not that much different from rolled oats.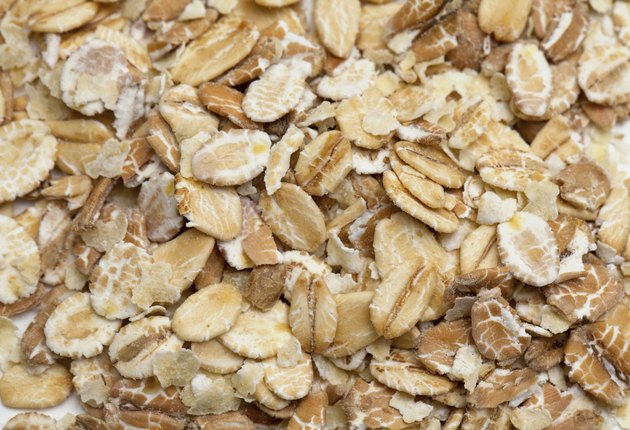 Low-Calorie Breakfast Choice
Whether it's rolled or instant, a 1/2-cup serving of cooked oats contains 80 calories. As a breakfast option, both instant and rolled oats make a low-calorie choice. If you eat a 2,000-calorie diet, the 80-calorie bowl of cereal meets less than 5 percent of your daily needs. Finding ways to limit calories here and there can help promote a healthy weight.
Whole Grains and Fiber, Too
Even though the instant oats undergo a little more processing than the rolled oats, both are still considered a whole grain. The U.S. Department of Agriculture recommends you make at least half your daily grains whole grains. Both instant and rolled oats are a good source of fiber and contain 2 grams of fiber in a 1/2-cup cooked serving. The fiber in the oats helps lower cholesterol and may lower your risk of Type 2 diabetes, heart disease and obesity.
Low in Fat, Some Protein
A 1/2-cup serving of cooked instant or rolled oats contains 1.5 grams of total fat, no saturated fat and about 3 grams of protein. You might find it surprising that the oats contain fat, but as whole grains, the oats retain their germ, endosperm and bran, which contain vitamins, minerals and essential fats. As a plant protein, the oats do not provide all of the essential amino acids. But as long as you include a variety of foods throughout the day, such as vegetables, other grains or beans, you should be able to meet your protein and amino acid needs.
Source of Iron and Calcium
Both iron and calcium are nutrients of concern, according to the U.S. Department of Agriculture, which means you need to include good food sources of these nutrients in your diet. Both instant and rolled oats contain calcium and iron, but the amount varies due to fortification. A 1/2-cup serving of fortified instant rolled oats meets about 10 percent of the daily value for calcium and 39 percent of the daily value for iron, while the same serving of rolled oats that are not fortified meets 2 percent of the daily value for calcium, and 6 percent of the daily value for iron.