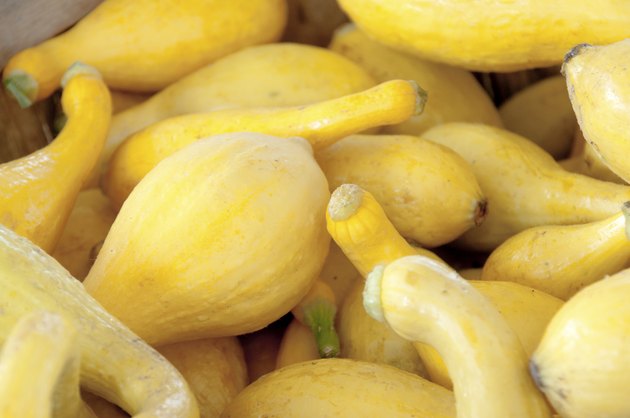 Sunburst squash are a heritage variety of summer squash related to the pattypan squash. The sunburst varietal is short and round, with slightly scalloped edges and a characteristic orange-yellow color. Use sunburst squash in any recipe that calls for summer squash. The bright, sunny color for which it is named will help the dish to pop, making it a feast for the eyes as well as a savory treat for your taste buds.
Sautéed Sunburst Squash
Step 1
Heat the olive oil in the skillet over medium-high heat.
Step 2
Add the sliced sunburst squash a handful at a time and sauté for seven minutes, or until all of the squash is tender enough to easily pierce with a fork.
Step 3
Remove the squash with a spatula and place it in a serving bowl. Top with the grated Parmesan cheese, if desired, and toss the squash to distribute the cheese. Serve hot.
Baked Sunburst Squash
Step 1
Preheat the oven to 325 degrees Fahrenheit.
Step 2
Rub the slices of summer squash with olive oil and place them on a greased baking sheet. Sprinkle with salt to taste.
Step 3
Bake the squash, turning once halfway through the cooking time. Bake for 40 to 60 minutes, or until the squash has turned golden brown and is fork-tender.
Step 4
Transfer the squash to a serving bowl and serve hot.
Things You'll Need
1 1/2 lbs. sunburst squash, sliced

3 tbsp.olive oil

Salt to taste, optional

4 tbsp. Parmesan cheese, optional

Skillet

Baking sheet

Cooking spray

Spatula

Serving bowl