The mouthfeel of longkou noodles stands out when you first try them. Slippery and almost weightless on the tongue, longkou, also called cellophane noodles, feel more like a garnish than a substantial part of a soup or stir-fry. What they lack in heartiness, though, they compensate for in flavor absorption. Longkou noodles only need about 2 minutes to absorb the flavors in soups or sauces. The noodles have another side, too. When fried, longkou noodles crisp up into thin, crunchy nests, serving as the stage for a rich sauce or a crunchy finish on top of soups and salads.
Soups and Stir-Fries
Step 1
Bring a saucepan or kettle of water to a boil. Cut the mass of longkou noodles in half crosswise and place them in another saucepan.
Step 2
Pour the boiling water over the longkou noodles. Let the noodles soak for about 15 minutes.
Step 3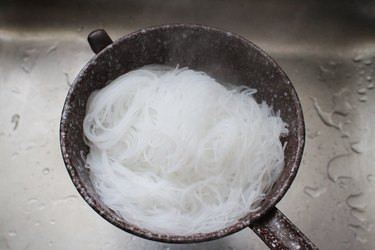 Bring the saucepan of longkou noodles to a boil. Drain the noodles well and add them to a stir-fry or soup in the last 2 minutes of cooking.
Fried
Step 1
Heat a few tablespoons of frying oil in a wok or frying pan over medium-high heat. Cut the longkou noodles in half crosswise.
Step 2
Add the longkou to the oil after about 4 or 5 minutes of heating.
Step 3
Fry the noodles until they turn golden brown, stirring once or twice, for about 2 minutes. Remove the noodles with a slotted spoon and place them on paper towels to drain.
Step 4
Transfer the noodles to the serving plate and use them as a nest for sauces or add them to the top of another dish for a crunchy garnish.