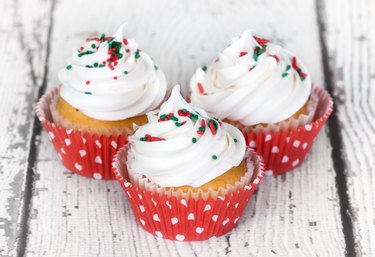 Want to decorate your cake with a fluffy whipped cream icing? Try a whipped cream frosting recipe that makes a simple tasty topping suitable for any pastry. If you're vegan or lactose intolerant, you can try a dairy-free version.
Whipped Cream Frosting Recipe
A recipe from the Charlie Foundation for Ketogenic Therapies explains how to make a simple, straightforward whipped cream that won't "deflate" after you've put it on your cake. For ingredients, you'll need 1 cup of heavy cream, 1 tablespoon of cold water, 1 teaspoon of plain gelatin powder and a sweetener of your choice.
Mix the gelatin into the cold water in a small microwavable bowl and let sit for five minutes.


Microwave the gelatin mixture for 10 seconds to liquefy it.


Pour the cream into a mixing bowl and beat at the highest speed using a stand mixer.

When the cream thickens, add the liquefied

gelatin mixture and continue whipping.


Add your desired sweetener to taste; the whipped cream is finished when it can hold a stiff peak.


Use right away, as the consistency can change if the whipped cream is left out for too long. Store in the refrigerator.

If you're looking for a healthier whipped cream substitute, try making the LIVESTRONG.com recipe using whole milk. Or experiment with skim milk, cashew milk or coconut milk. For a whipped cream substitute with skim milk, you can blend skim milk, ice cubes and vanilla or orange extract for flavor. For cashew nut whipped cream, blend soaked cashews, nut milk or water, and a small amount of lemon juice.
Dairy-Free Whipped Cream
If you're lactose intolerant, meaning that you experience digestive issues, such as bloating, diarrhea and gas, after consuming lactose, says the National Institute of Diabetes and Digestive and Kidney Diseases, then it's best to avoid dairy altogether when possible. Our dairy- and sugar-free recipe for Whipped Coconut Cream, which serves six people, requires only a 14-ounce can of coconut cream and 1 teaspoon of vanilla extract.
The process of making dairy-free whipped cream is similar that of "regular" whipped cream:
Refrigerate a can of coconut cream for about eight hours.

Add the chilled coconut cream and 1 teaspoon of vanilla extract to a bowl.

Whip using a mixer at medium speed; then whip at high speed until the cream stiffens.

You can serve your whipped cream immediately or store it in the refrigerator for no more than three days.

If you decide to use coconut milk instead of coconut cream, use only the solidified coconut fat at the top of the can.
Tips for Making Whipped Cream
Wisconsin Public Radio has a couple of pointers that you should keep in mind when making dairy-based whipped cream frosting for cake decorating: Don't overwhip the cream or it will turn into butter and store any leftover whipped cream in the refrigerator in an airtight container.
If you're making a dairy-free whipped cream frosting from coconut milk, GoDairyFree.org recommends shaking the can of coconut milk before using it. If you can hear the liquid, it may water down your whipped cream. A thicker product, which doesn't make a sound when you shake the can, will produce a better consistency.
GoDairyFree.org also says to look out for "bad" coconut milk and to always buy two cans as one may not contain enough cream. For a thicker whip that doesn't deflate at room temperature, use a stabilizer such as modified tapioca starch or modified cornstarch. Dairy-free milk powders can also help stabilize the whipped cream.