With over a dozen different vitamins, minerals and other nutrients, eggs are among the most nutritious foods you can consume. You can obtain all of these nutritional benefits by eating your eggs as a food or, alternatively, even drinking eggs.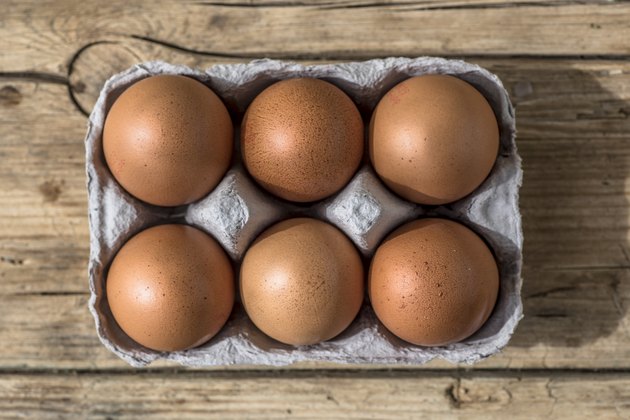 Tip
Raw eggs can be healthy, but cooked eggs are even healthier. Heating your eggs makes it easier for your body to absorb nutrients.
Raw Egg Nutrition Facts
According to the USDA, each large raw egg (usually around 50 grams) has the equivalent of 72 calories. Eggs are well known for being great sources of protein for ovo-lacto vegetarians, with 6.3 grams of protein per large egg. Each egg also contains 0.4 grams of carbohydrates and 4.8 grams of fat, most of which comes from healthy unsaturated fats in the form of omega fatty acids.
Each large egg also contains about a dozen different micronutrients. These include:
9 percent of the daily value (DV) for vitamin A
18 percent of the DV for riboflavin (vitamin B2)
15 percent of the DV for vitamin B5
5 percent of the DV for vitamin B6
6 percent of the DV for folic acid (vitamin B9)
19 percent of the DV for vitamin B12
5 percent of the DV for vitamin D
27 percent of the DV for choline
5 percent of the DV for iron
8 percent of the DV for phosphorus
28 percent of the DV for selenium
6 percent of the DV for zinc
Eggs also contain other nutrients like antioxidants, carotenoids (lutein and zeaxanthin), and small amounts (between 1 and 4 percent) of other vitamins and minerals ⁠— calcium, copper, manganese, potassium, magnesium, B-complex vitamins and vitamin E.
Health Benefits of Eggs
Given the vast array of nutrients in raw eggs, the health benefits of eggs are fairly obvious. Whether you're consuming chicken, duck or quail eggs, all eggs can provide you with a variety of the nutrients the Food and Drug Administration recommends consuming on a daily basis.
As mentioned, eggs also contain a variety of other important but nonessential nutrients, like choline, carotenoids and bioactive peptides. An April 2018 study in the FASEB Journal found that choline can improve cognition in developing infants, while an April 2013 review in Nutrients reported how important the carotenoids lutein and zeaxanthin are for the health of your eyes.
Preventing hypertension
Antimicrobial properties
Antioxidant activity
Anticancer effects
Regulating immune system function
Enhancing nutrient absorption
These beneficial bioactive peptides automatically become active whenever your body digests egg proteins.
However, you should be aware that drinking eggs and consuming cooked eggs as food won't provide you with exactly the same nutritional benefits. The proteins in eggs can change based on the way you've chosen to prepare them.