Whether you made a simple or exotic chicken recipe, you can make delicious chicken stew from leftover chicken in less than 30 minutes. Chicken stew can be made in one pot using leftover baked, broiled or boiled chicken breasts, thighs or other meat, and supplies a host of nutritional benefits. Leftover chicken can be shredded, chopped or diced and can be frozen prior to use. Warm your family or guests on cold days or nurture yourself with this comforting dish.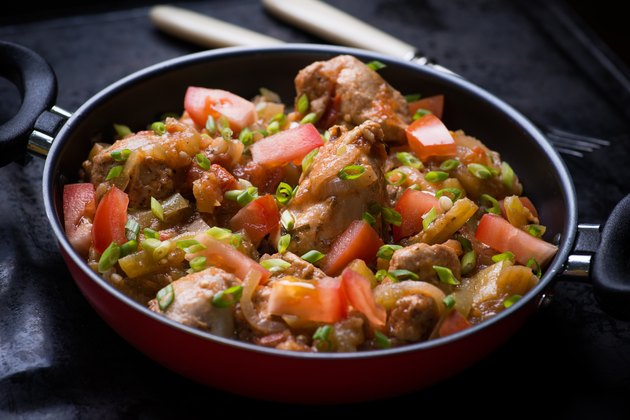 Traditional Chicken Stew
Step 1
Heat the oil in Dutch oven or saucepan over medium heat.
Step 2
Add the celery, carrot and onion, and sauté the vegetables until the onion is translucent, about five minutes.
Step 3
Remove the vegetables from the pan with a slotted spoon and set aside.
Step 4
Add the flour, salt and pepper to the oil in the pot to make a roux, and stir until moistened.
Step 5
Add the chicken stock all at once and whisk quickly until smooth.
Step 6
Return the vegetables to the pot and add the tomatoes, basil, tomato paste, bay leaf, thyme and leftover chicken.
Step 7
Simmer the mixture over medium-low heat until the vegetables are tender, about 15 to 20 minutes.
Step 8
Remove the bay leaf and add the kidney beans.
Middle Eastern Chicken Stew
Step 1
Sauté ½ cup chopped onions and 2 tbsp. chopped garlic in 2 tbsp. olive oil and 1 tbsp. butter in a Dutch oven until the onions are translucent, about five minutes.
Step 2
Add 1 tsp. saffron and 1 cup chopped cilantro and sauté for an additional two minutes.
Step 3
Add 4 cups water and 2 cups leftover chicken and bring to a boil. Simmer for 20 minutes.
Step 4
Stir in 8 oz. chopped, pitted Kalamata olives and 2 tbsp. lemon juice.
Step 5
Simmer for an additional 10 minutes before serving the stew hot over rice.
Things You'll Need
Dutch oven or large saucepan

Slotted spoon

2 tbsp. canola oil

2 stalks celery, chopped

2 carrots, sliced

1 small onion, chopped

1 tbsp. flour

Salt and pepper

2 cups chicken broth

1 (14 1/2-ounce) can diced tomatoes

1 tbsp. basil

1 tbsp. tomato paste

1 bay leaf

1/2 tsp. dried thyme

1 lb. leftover chicken, chopped or shredded

1, 15-oz. can kidney beans, drained

1/2 cup chopped onions

2 tbsp. chopped garlic

2 tbsp. olive oil

1 tbsp. butter

1 tsp. saffron

1 cup chopped cilantro

2 cups chicken

8 oz. chopped Kalamata olives

2 tbsp. lemon juice
Tips
You can substitute ketchup for the tomato paste, and Italian seasoning for the basil and thyme. You may also substitute pinto or great northern beans for the kidney beans, or for a heartier stew, add ½ cup rice or two cubed potatoes and 1 cup water to the pot when adding the broth.
Warning
Do not use chicken that has been left unrefrigerated for more than two hours. Leftover chicken can be stored in the freezer indefinitely or stored in the refrigerator and eaten within four days.