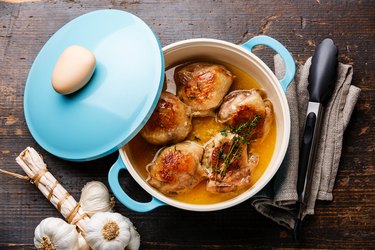 Yesterday's leftover chicken can be transformed into tonight's dinner by using it to make a delicious, comforting stew. And because the chicken is already cooked, this meal comes together quickly and almost effortlessly.
Chicken stew can be made in one pot using leftover baked or broiled chicken breasts, thighs or other parts, and supplies a host of nutritional benefits. Half of a medium cooked chicken breast, for instance, has about 40 grams of protein for only 210 calories. It also contains B vitamins, zinc, magnesium and potassium.
How to Make Stew Taste Amazing Every Time
The key to a delicious chicken stew: "You always want to start with big flavor," says Palak Patel, a chef at the Institute of Culinary Education. Sauté onions and garlic to get a layer of flavor, she suggests, adding that you can also throw in carrots or celery. The next step is to thicken your stew. There are a few ways to do that, Patel says. Add flour to your pot and cook it a bit to remove the "raw" taste or add potatoes, which are a great natural thickener, she says.
Once you've nailed down the initial big flavor and the stew's thickness, you'll want to choose your dish's flavor profile. "If you want to go Mexican, use cumin, paprika and oregano," she says. An Italian flavor profile might involve parsley, olives and capers, Patel says.
If you're looking for inspiration, try some of these simple stew recipes below.
Warning
Always put food safety first: Do not use chicken that has been left unrefrigerated for more than two hours. Leftover chicken can be stored in the freezer indefinitely or stored in the refrigerator and eaten within four days.
A Traditional Chicken Stew Recipe
Dutch oven or saucepan
2 tablespoons canola oil
2 stalks celery, chopped
2 carrots, sliced
1 small onion, chopped
1 tablespoon flour
Salt and pepper to taste
2 cups chicken broth
1 14.5-ounce can diced tomatoes
1 tablespoon basil
1 tablespoon tomato paste
1 bay leaf
1/2 teaspoon dried thyme
1 pound leftover chicken, chopped or shredded
1 15-ounce can kidney beans, pinto beans or chickpeas, drained (optional)
Heat the oil in Dutch oven or saucepan over medium heat.
Add the celery, carrot and onion, and sauté the vegetables until the onion is translucent, about 5 minutes.
Remove the vegetables from the pan with a slotted spoon and set aside.
Add the flour, salt and pepper to the oil in the pot to make a roux and stir until moistened.
Add the chicken stock all at once and whisk quickly until smooth.
Return the vegetables to the pot and add the tomatoes, basil, tomato paste, bay leaf, thyme and leftover chicken.
Simmer the mixture over medium-low heat until the vegetables are tender, about 15 to 20 minutes.
Remove the bay leaf and optionally add a can of chickpeas or kidney beans.
Serve while hot.
A Middle Eastern Chicken Stew Recipe
Dutch oven
1/2 cup onions, chopped
2 tablespoons garlic, chopped
2 tablespoon olive oil
1 tablespoon butter
1 teaspoon saffron
4 cups water
2 cups leftover chicken
8 ounces Kalamata olives, pitted and chopped
2 tablespoons lemon juice
Rice, cooked (for serving)
Chopped cilantro (optional)
Sauté the chopped onions and garlic in olive oil and butter in a Dutch oven until the onions are translucent, about 5 minutes.
Add the saffron and sauté for an additional 2 minutes.
Add 4 cups water and 2 cups leftover chicken and bring to a boil. Simmer for 20 minutes.
Stir in the Kalamata olives and lemon juice.
Simmer for an additional 10 minutes before serving the stew hot over rice. Sprinkle chopped cilantro on top as a garnish.
More Chicken Stew Variations
Here are some more chef-approved suggestions for making your best chicken stew yet.
‌Make a gumbo:‌ "Nothing screams Louisiana and fall football weather like a dark and rich chicken gumbo," says culinary educator Wesley Turnage, an executive chef with Tulane University Dining in New Orleans. To make it, add your leftover chicken to a dark roux with bell pepper, onion and celery, says Turnage. Add the chicken stock and finish with herbs and spices. This gumbo can be served with rice or potato salad, says Turnage.


‌Use the bones:‌ Is your leftover chicken on the bone? Instead of throwing out the carcass, Joel Hirsch, the executive chef of catering at George Mason University Dining in Fairfax, Virginia, suggests dumping it in a big pot with chicken broth and white wine. Here's how to do it: Bring the pot to a boil and then reduce heat and simmer for 20 minutes to get the flavor out of the bones and cook out the alcohol. Once done, strain out bones and any other pieces and skim off any fat or grease from the bones, says Hirsch. Then, follow the steps for cooking a traditional stew, adding this extra flavorful stock after you've made a roux.


‌Celebrate the harvest:‌ Potatoes, carrots and celery aren't the only vegetables that work well in a stew. Executive chef Jay Ladine, Jr., with Texas Christian University dining in Fort Worth, suggests trying parsnips and apples as well.
Was this article helpful?
Thank you for your feedback!