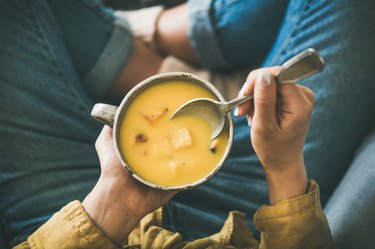 Autumn practically begs coziness — and what better way to feel warm than with a comforting bowl of soup? Soup is simple to prepare, gentle on the digestive system and makes it easy to get your veggies in, deeming it the perfect seasonal dish.
Indeed, fall is abundant in nutritious, soup-friendly vegetables like pumpkin, butternut squash and kale. Whether you're settling in to watch a spooky movie or hosting friends for a holiday party, these soup recipes will put all your vitamin-packed fall produce to good use.
1. Turkey Pumpkin Soup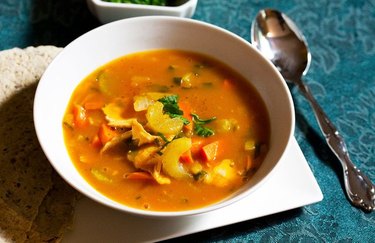 If you're looking for Thanksgiving in a warm, hearty bowl, you've found it. This Turkey Pumpkin Soup is high in protein and low in fat, making for a perfect lunch. Serve this recipe with a side of whole-grain bread for a complete meal and top your bowl with some nutmeg for a nutty flavor.
Pumpkin is a popular fall flavor but this veggie has some nutritional benefits, too. Pumpkin is particularly high in vitamin A, according to the National Institutes of Health (NIH). This fat-soluble nutrient is especially good for promoting a healthy immune system — which we all need during cold and flu season.
2. Cauliflower Soup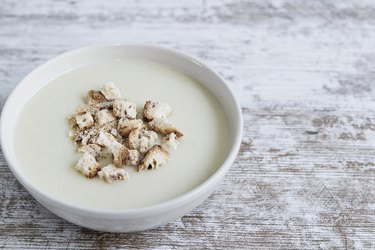 These days, you can find cauliflower rice, pizza, gnocchi and — of course — soup, too. While cauliflower is pretty widely available throughout the entire year, it's actually most nutritious (and tasty) in the fall when it's in season. So, stock up on this vegetable while fall's still here.
Cauliflower is not only low in calories and carbohydrates, it's a great source of vitamin C and potassium, according to Harvard Health Publishing. Vitamin C is crucial for protein metabolism and plays a vital role in wound healing, according to the NIH.
3. Butternut Squash Soup Shooters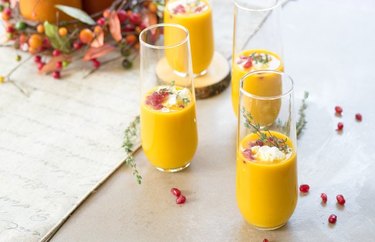 Like pumpkin, butternut squash is a staple fall vegetable. Served in champagne flutes with some seasonal garnish, this recipe is perfect if you're entertaining guests or simply looking to give your dinner a decadent twist. And, this recipe only takes 25 minutes to prepare.
Butternut squash is high in magnesium, according to the Harvard T.H. Chan School of Public Health. Magnesium plays a variety of roles in the body, helping produce energy, synthesize protein and control muscles and nerves, according to the NIH. Magnesium may also help promote good sleep, so you might want to dig into this recipe before bed.
4. Kale, Bacon and White Bean Soup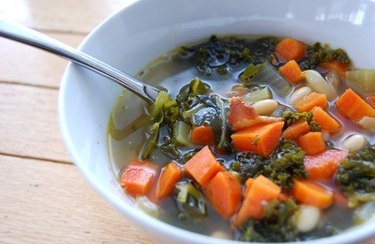 Full of vegetables, beans and bacon, this soup is actually low in fat and high in fiber. If you're planning to prepare it for dinner, make sure to set aside a little extra time, as this bowl requires about 45 minutes to make.
A cruciferous fall veggie, kale is one of the most nutrient-rich vegetables and can be found in either green or purple varieties. Kale is high in both potassium and calcium, according to the Mayo Clinic. Potassium helps support proper cell function and can also help flush excess sodium from the body, stabilizing your blood pressure, according to NIH.