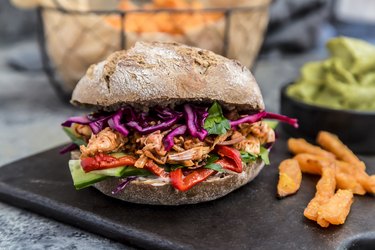 Imagine a juicy, mouth-watering pulled pork sandwich that boasts fewer calories, less fat, absolutely no cholesterol and is vegan. Yes, ​vegan​. So what gives? Well, there's no pork in sight — instead, jackfruit is the star of the show.
At first glance, jackfruit definitely doesn't look like a fruit. As the largest tree-borne fruit in the world, the spiky green find can grow up to 80 pounds, looking more like an oversized porcupine than something you'd eat. But when you cut it open, everything changes: You'll find fiber-packed flesh that can easily be turned into the ultimate healthy meat replacement for vegetarians, vegans and anyone who's trying to improve their health or save the planet.
Even though jackfruit has gone totally mainstream, it's not anything new. The fruit — which is native to South and Southeast Asia — has been used in meatless dishes for years. With a little shredding, you can morph it into pulled pork and even crab cakes or barbecue "ribs."
And companies have been successful in riding the wave of the produce's popularity. Instead of having to buy a whole jackfruit from Asian markets or jackfruit canned in brine, you can find premade options at nearly every grocery store from brands like The Jackfruit Company, Upton's Naturals, and Edward & Sons. You can even buy it dried for the perfect on-the-go snack.
It's pretty clear jackfruit makes for an epic meat replacement. But is it actually nutritious? According to experts, it's just as healthy as it is tasty. In fact, while red and processed meat including beef, lamb and pork have been linked to increasing your risk of cancer, according to the American Institute for Cancer Research, some research suggests that jackfruit could fight it off.
A study observed that jackfruit contains chemoprotective properties that can reduce the growth of cancer cells — specifically, lymphoma cancer — although more research is needed to confirm those results, plant-based dietitian Alex Caspero, RD, recipe developer and author behind Delish Knowledge tells us, citing May 2013 research published in the journal ​Food Chemistry​.
"Plus, jackfruit is rich in phytonutrients — such as carotenoids that can act as antioxidants — which have an anti-inflammatory effect," Caspero says. Jackfruit is also rich in potassium, which can help lower blood pressure, especially in higher-sodium diets that are common in the U.S.
And when it comes to protein — probably the main factor everyone looks at when selecting a meat replacement — jackfruit definitely can't compete. The good news is, it doesn't have to.
"Jackfruit isn't absent of protein, but it doesn't contain as much as meat sources that its texture mimics, like pulled pork," Caspero says. A 2.65-ounce serving of raw jackfruit has just 1 gram of protein, but that shouldn't raise any concerns.
"It's a fallacy that every meal has to be packed with protein, as the standard American diet contains almost twice as much as the recommended amount of protein. Even vegans and vegetarians typically get plenty of protein, so I'm not worried about the lower amount of protein in jackfruit," Caspero says.
Plus, jackfruit contains some fiber, too. The same 2.65-ounce serving contains 3 grams of the filling macro. "Fiber helps lower your cholesterol, as well as keeps you fuller for longer," says Amy Gorin, RDN and owner of Amy Gorin Nutrition, in the New York City area. That's not all, either: "Jackfruit is also an excellent source of immunity-helping vitamin C," which is linked to lowering your risk of certain types of cancer, per the Mayo Clinic.
How to Use Jackfruit in Plant-Forward Recipes
The best part about jackfruit is how versatile it is. You can use it raw or cooked, and there are an endless amount of ways to enjoy it. A good place to start? Seeing what all the fuss behind meatless pulled pork is about! Creating your own version at home requires little effort and you can have dinner on the table in under 30 minutes. Here's Caspero's go-to method:
Start by buying unripe jackfruit or jackfruit packed in brine — the sweet stuff won't work.
Drain the water and roughly chop the fruit. It should have a stringy texture similar to pulled pork.
Toss it in a skillet with onions and a barbecue sauce of your choice, and warm through. For a crispy texture, place the jackfruit on a baking sheet and heat it in the oven at 400°F for about 25 minutes.
Use it anywhere you'd use pulled pork or pulled chicken!
"We often hear about jackfruit as a meat substitute, but it's also a delicious fruit when eaten fresh. Buy a fresh jackfruit at the grocery store, and you're in for a treat," Gorin says. "I also like to make jackfruit toast: I'll slice up veggies and place that and teriyaki or curry jackfruit on toasted whole-grain bread with a slice of cheese."
If you're not ready to jump into preparing jackfruit at home, start easy with the ready-to-eat options available at the grocery store. Just make sure you're reading the ingredients list before choosing a product.
"Unripe jackfruit on its own is fairly flavorless, so you'll need seasonings and/or a sauce to make it taste great," Caspero says. "That means, some packages may be high in sodium and or sugar, but all the products that I've seen are comparable or less than what you'd see in a similar meat product."
Go for a packaged jackfruit product that contains less than 5 grams of sugar per serving and up the fiber content by serving the prepared barbecue jackfruit on a whole-grain bun with a shredded cabbage coleslaw, suggests Caspero.
So there you have it. You probably never thought a spiky, unique fruit would become your go-to meat replacement, but when it comes to health and versatility, this mighty green giant is hard to beat.