Pierogies are a type of Eastern European -- Polish, Russian and Ukrainian -- dumpling stuffed with potatoes, cheese, sauerkraut, meat and even fruit. They often make an appearance at European Orthodox churches at Christmas Eve, yet many grocery stores carry frozen varieties that you can cook at home. Pierogies vary in size and shape, but the common half-moon pierogie is about 3 inches long. A serving of three, or about 114-120 grams, contains about 160 to 220 calories and 30 to 40 grams of carbohydrate.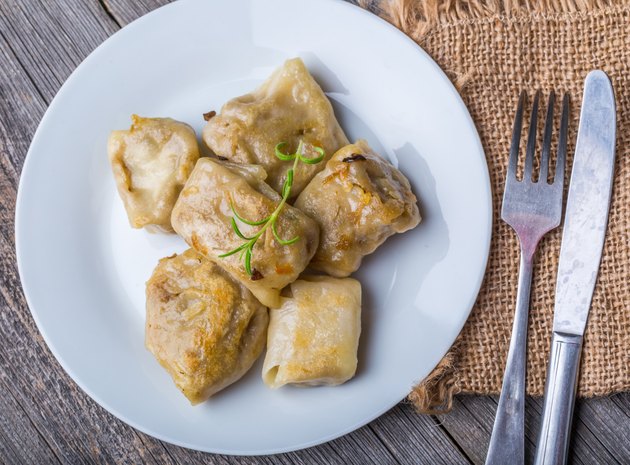 Saute
Step 1
Heat butter or olive oil, or an equal blend of both, in a frying pan over medium heat.
Step 2
Place frozen pierogies in the pan.
Step 3
Cook one side about 4 to 5 minutes or until golden-brown, flip, and cook for another 3 to 4 minutes until golden-brown.
Step 4
Drain on paper towels before serving.
Bake
Step 1
Preheat oven to 400 degrees Fahrenheit.
Step 2
Brush olive oil or melted butter on both sides of frozen pierogies.
Step 3
Place pierogies on a baking sheet.
Step 4
Bake for 10 minutes, or until golden-brown.
Step 5
Turn with a spatula and bake for about 10 more minutes.
Boil
Step 1
Boil two quarts of water in a heavy pot.
Step 2
Place the pierogies in the pot.
Step 3
Lower the heat and simmer for 5 to 7 minutes, or until the pierogies float to the top.
Step 4
Drain in a colander before serving.
Things You'll Need
Butter

Olive oil

Frying pan

Paper towels

Baking sheet

Heavy pot

Spatula

Colander
Tip
Top pierogies with sour cream and caramelized onions.