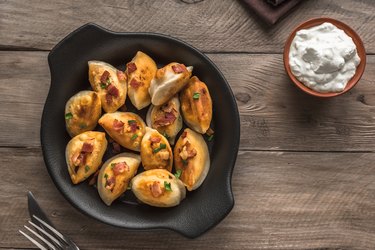 Every culture seems to have its own take on the dumpling. For the Polish, it's the pierogi. Like many dumplings, making pierogies from scratch requires multiple steps that may not fit into your busy schedule. But frozen pierogies make a quick and convenient alternative.
Pierogi: The Polish Dumpling
The pierogi is probably the most well-known Polish food. While it's not clear how the savory dumpling came to be, it's been part of the Polish kitchen for hundreds of years. The dense, unleavened dough is used to enclose many different fillings, from potato and cheese to sauerkraut to spiced meat. You can even use the dough to wrap around plums or prunes to create a sweet treat.
While nutrition information varies depending on the size of your dumpling, the filling, and whether you're making your pierogies from scratch or using a frozen variety, the Polish dumpling can be high in calories and fat. According to nutrient information collected by the USDA, a 100-gram (approximately three dumplings) portion of potato and cheese pierogies has:
240 calories
6 grams of protein
7 grams of total fat
37 grams of carbohydrates
2 grams of fiber
260 milligrams of sodium
359 calories
13 grams of protein
23 grams of total fat
25 grams of carbohydrates
0.9 gram of fiber
438 milligrams of sodium
These tasty dumplings can also be high in sodium. Too much sodium may increase your risk of developing high blood pressure, according to the American Heart Association. Most of the sodium in the American diet comes from packaged foods like frozen pierogies, so be sure to keep an eye not just on calories and fat, but also on sodium when looking for your quick, comforting pierogi dinner.
Cooking Frozen Pierogies
When using frozen pierogies purchased from your grocery store, prepare as directed on the box or bag. In most cases, frozen pierogies can be reheated by boiling in a pot of water. Simply bring a large pot of water to a rolling boil and cook your frozen pierogies uncovered according to package directions, about two to three minutes. Drain your pierogies and serve hot with a side of unsweetened applesauce.
If you prefer a little more bite to your pierogi dough, after cooking your frozen pierogies in the boiling water, transfer to a saute pan seasoned with oil and cook over medium-high heat, turning once, until your dumpling has turned a nice golden brown.
If you made your own batch of pierogies and then froze them for later use, you can prepare them the same way as the packaged varieties. However, cooking time may vary depending on your filling and the size of your pierogi. King Arthur Flour suggests cooking no more than 10 frozen pierogies at a time and cooking them until they float to the top of your boiling water.
Frozen Pierogies Recipe
Your frozen pierogies can easily be served on their own without the need for any additional ingredients. However, if you're feeling creative you may be looking for a pierogies recipe to add versatility to your weekly dinner menu.
Pierogies are often served with sauteed onions. While you're preparing your frozen pierogies, saute sliced yellow onions over medium-high heat with a touch of olive oil. After your frozen pierogies have finished boiling, toss them into your saute pan to brown with your onions.
To boost the nutritional quality of your pierogi dinner, consider including broccoli and cauliflower with your sauteed onions. This may not come as too much of a surprise, but according to a July 2014 meta-analysis prospective cohort study published in the BMJ, eating more fruits and vegetables reduces your risk of chronic disease and may prolong your life.
For an Italian flare, toss your boiled pierogies with pesto sauce and serve with fresh basil leaves and sliced grape tomatoes. Finish off with a balsamic reduction for a touch of sweetness.